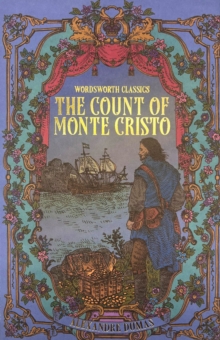 The Count of Monte Cristo
Paperback
Description
With an Introduction and Notes by Keith Wren, University of Kent at Canterbury. The story of Edmund Dantes, self-styled Count of Monte Cristo, is told with consummate skill.
The victim of a miscarriage of justice, Dantes is fired by a desire for retribution and empowered by a stroke of providence.
In his campaign of vengeance, he becomes an anonymous agent of fate. The sensational narrative of intrigue, betrayal, escape, and triumphant revenge moves at a cracking pace.
Dumas' novel presents a powerful conflict between good and evil embodied in an epic saga of rich diversity that is complicated by the hero's ultimate discomfort with the hubristic implication of his own actions. Our edition is based on the most popular and enduring translation first published by Chapman and Hall in 1846.
The name of the translator was never revealed.
Information
Format: Paperback
Pages: 928 pages
Publisher: Wordsworth Editions Ltd
Publication Date: 11/06/1997
Category: Classic fiction (pre c 1945)
ISBN: 9781853267338
Other Formats
Paperback from £4.75
Hardback from £4.55
CD-Audio from £8.59
EPUB from £1.04
eAudiobook MP3 from £5.84
Free Home Delivery
on all orders
Pick up orders
from local bookshops
Reviews
Showing 1 - 5 of 13 reviews.
Previous | Next
Review by Hanno
16/06/2015
One of the best.The unabridged edition could definetely be one hundred pages shorter but even so this book kept me fully immersed and interested throughout it's nine hundred dense, small font pages.
Review by ysar
16/06/2015
This classic tale of revenge was an incredible read, but like revenge itself, left an emptiness. Perhaps that was the author's intention? The man who lost everything came to financial power and ruined those who'd wronged him. Unlike the stupid movie version, he did not recover that which had been lost to him---he simply destroyed it and walked away.
Review by RoboSchro
16/06/2015
"The most dreadful misfortunes, the most frightful sufferings, the abandonment of all those who loved me, the persecution of those who did not know me, formed the trials of my youth; when suddenly from captivity, solitude, misery, I was restored to light and liberty, and became the possessor of a fortune so brilliant, so unbounded, so unheard-of, that I must have been blind not to be conscious that God had endowed me with it to work out his own great designs."Bright young thing Edmond Dantès is just about to take a good position and a beautiful wife, when he is unjustly accused of treason and jailed. Betrayed still further by a corrupt official, he languishes in solitary confinement for fourteen years. Eventually, a stroke of fortune provides him not only with escape, but the key to vast wealth. This he uses to set himself up as a member of the aristocracy, from which position he can track down those who betrayed him and extract his revenge.This is a marvellous book, very long but full of vivid characters, wry satires on society, and scenes of great adventure. Dantès as the Count is possibly too good to be true -- he's intelligent, moral, witty, calm, well-read, well-travelled, etc. -- but his patient machinations, as he manoeuvres his prey into perfectly-chosen traps, are delightful.Not a quick read, by any means, but definitely worthwhile.
Review by theportal2002
16/06/2015
This is a true classic. Books are not longer written like this. Reading this book was similar to a religious experience!
Review by mumoftheanimals
16/06/2015
Don't be put off by the length. This is a fantastic book - deep, exciting and captivating. I would happily throw in a 'sickie' to stay in bed ansd finish reading it. Do think about the edition. The font size of my edition is off-putting - need lazer surgery to read it. There must be better ones about. Make sure you get the unabridged too.
Also in the Wordsworth Classics series | View all