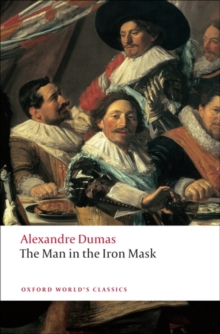 The Man in the Iron Mask
Paperback
Description
One of France's best-selling writers at the time of the novel's composition, Dumas here combines what he considered to be life's essentials - 'l'action et l'amour'.
This historical romance is the climax of his epic of chivalry and valour that began with The Three Musketeers, and it is here that Athos, Porthos, Aramis, and their friend d'Artagnan, once invincible, meet their destinies.
This edition provides background information and notes crucial to an understanding of the legend and the novel's setting.
ABOUT THE SERIES: For over 100 years Oxford World's Classics has made available the widest range of literature from around the globe.
Each affordable volume reflects Oxford's commitment to scholarship, providing the most accurate text plus a wealth of other valuable features, including expert introductions by leading authorities, helpful notes to clarify the text, up-to-date bibliographies for further study, and much more.
Other Formats
Paperback from £2.50
Mixed media product from £10.98
Hardback from £5.09
EPUB from £0.99
PDF from £3.61
eAudiobook MP3 from £7.69
CD-Audio from £39.29
Paperback / softback from £20.65
Free Home Delivery
on all orders
Pick up orders
from local bookshops
Reviews
Showing 1 - 2 of 2 reviews.
Review by theokester
16/06/2015
First I must admit that even though I've seen a few movie renditions, this is the first time I've read this book. Furthermore, this is the first book I've read by Dumas…and it is kind of a strange place to start considering this is the ending of one of his famous series.The first thing I noticed about the writing was that it was VERY detailed. Not only in terms of descriptions but also in terms of the character and political development. I quickly found myself overwhelmed with dozens of names, roles and relationships (personal and political) throughout France and neighboring countries. It was dizzying to try to keep them all straight, especially considering a number of similar names as well as the habit of referring to some people by different names at different times (sometimes by their common name, sometimes by their political/professional title). After a while, I sank in and was able to keep at least the principal characters straight. and I got caught up in the intriguing machinations that were unfolding.Having seen two movie versions, I felt like I had a good feel for what to expect from the plot. However, it quickly became apparent that the movie versions I've seen (and from what I can tell, this is true of most of the movie versions out there) are rather different from the novel.Interestingly, the story of the "man in the iron mask" is only a small portion of the overall plot of this particular book. And that plot segment unravels itself through the first third of the book and then disappears completely. In the movie versions, the way the "iron mask" plot ends is strikingly different from what happens in the book. The remaining half+ of the book has nothing to do with the "man in the iron mask" (except for the consequences of the plot) and instead follows the famous musketeers to the ends of their careers/lives.It was still adventurous and a lot of fun…but was different from what I expected. So, now that I know that I shouldn't compare the book to the movie at all, and feeling more comfortable with the characters and plot…I am able to look back over the book as a whole in an entirely different light. As I said, the writing was very detailed. In some cases it felt like the details were a littler superfluous and over the top, but mostly I found it very immersive to be provided with that level of detail. Some of the characters felt a bit stereotypical but the main characters were unique and intriguing. They had significant depth which provided them with believable motivations to their various actions and dialog. The one exception I saw was the prince in the scene where he was anticipating D'Artangan's every action. We had previously been given to expect the prince to be incapable of strategic planning or foresight and suddenly we find him anticipating the motivations and reactions of a thoughtful and strategic man. To me, that was a bit of a stretch. I can discount it a bit based on the other character who was feeding the prince with various ideas and can thus attribute the insight to this other character (being vague to try and avoid spoilers).I really found myself enjoying the overall story. The "man in the iron mask" portion was very interesting and fun. I was shocked to see it end so different from the movies, but it felt more natural and believable. Then to have so much adventure after that plot arc, I had a ton of fun. While the intrigue and machinations of carrying out the "iron mask" plot were fun and intriguing, I'd heard/scene them so often that they became commonplace. Thus, the adventure that happened after the "iron mask" was fresh to me and that made it so much more fun.Overall I will admit that, if this book is any indication, Dumas is a heavy read. This book was filled with very detailed accounts of places, people, politics and other comings and goings of France. This was both a joy and a hindrance at times. There were moments when I felt bogged down by the text, but mostly I really enjoyed the vivid experience and the immense detail I was given. I probably should have started with the first book in the series ("The Three Musketeers") but I was familiar enough with the characters that it worked out all right. Even though he's a heavy read that took me a while to get through, I will definitely seek out and read more Dumas in the future.****4 out of 5 stars
Review by melydia
16/06/2015
Well, that was a real downer. People die, noble plots are thwarted, good men are sent to prison. The title is a little misleading, because surprisingly little of the book is about said man - the brother of the king, whom Aramis tries to install in his place from the very first chapter. I still love all four Musketeers, but this story seemed less about them and more about French politics. I think. To be honest, I had a lot of trouble following it. I kept confusing people, especially since most of the noblemen had two or three names each. It was nice to rejoin Athos, Aramis, Porthos, and d'Artagnan, but I would have rather spent the time with them off on adventures, and not as old men who barely see each other anymore. I suppose it's not a bad way to round off your Musketeer collection, but definitely don't start here.This translation was not so great. I'm not convinced, even in Dumas's time, that people would say "What does that signify?" instead of "What does that mean?" or "Do you comprehend?" instead of "Do you understand?" It made everything sound stilted and weird.
Also in the Oxford World's Classics series | View all