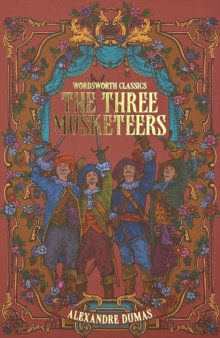 The Three Musketeers
Paperback
Description
With an Introduction and Notes by Keith Wren. University of Kent at Canterbury. One of the most celebrated and popular historical romances ever written, The Three Musketeers tells the story of the early adventures of the young Gascon gentleman, D'Artagnan and his three friends from the regiment of the King's Musketeers - Athos, Porthos and Aramis. Under the watchful eye of their patron M. de Treville, the four defend the honour of the regiment against the guards of Cardinal Richelieu, and the honour of the queen against the machinations of the Cardinal himself as the power struggles of seventeenth century France are vividly played out in the background. But their most dangerous encounter is with the Cardinal's spy, Milady, one of literature's most memorable female villains, and Alexandre Dumas employs all his fast-paced narrative skills to bring this enthralling novel to a breathtakingly gripping and dramatic conclusion. Our edition uses the William Barrow translation first published by Bruce and Wylde (London,1846)
Information
Format: Paperback
Pages: 592 pages
Publisher: Wordsworth Editions Ltd
Publication Date: 05/05/1992
Category: Classic fiction (pre c 1945)
ISBN: 9781853260407
Other Formats
Paperback from £2.50
Hardback from £5.09
CD-Audio from £5.69
Mixed media product from £10.65
eAudiobook MP3 from £9.79
Free Home Delivery
on all orders
Pick up orders
from local bookshops
Reviews
Showing 1 - 4 of 4 reviews.
Review by heidijane
16/06/2015
Having only been exposed to the Disney and Dogtanian version of this story, I thought I would undertake to read the real thing. And wow, I wasn't disappointed! According to the introduction, Dumas wrote this book serialised daily, which is quite some feat! It also means that each chapter ends on a cliff-hanger or something else that draws you in to keep reading. Its an exciting, thrilling tale of daring and adventure. Last night I had to stay up late to finish it, despite the fact that I was really tired, as the book progressed towards its inevitably tragic and dramatic climax.Admittedly, the main characters are hardly sympathetic. The musketeers and D'artagnan are all hard-drinking and loose with their money, sponging off their friends and treating their servants with contempt. Their relationships with women are quite cavalier too. The most sympathetic one is Athos, whose past comes back to haunt him and who increasingly occupies a greater role in the story towards the end as he seeks his revenge.Of the baddies, I was a bit disappointed with the cardinal, as he seemed to me to be rather an insipid character, torn between his admiration for the daring feats of the musketeers and his dislike for the fact that they keep undermining his dastardly plots. The best character is definitely Milady, a cold and calculated actress who can twist people round her little finger to do what she wants. Yet even she seems scared of losing the cardinal's favour.This is a brilliantly multi-layered book which, due to the plot full of political machinations, intrigues and secrets, is, at its heart, a damn good read.
Review by Idiom
16/06/2015
Well swash my buckle and buckle my swash!Loved the books and the Oliver Reed/Raquel Welsh films. But more than anything loved the way that Dumas took time to concentrate on the Baroness and created the first, real modern villaness.One of those books which completely surprises you.En guard!
Review by eleanor_eader
16/06/2015
Young D'artagnan and his three Musketeer companions are embroiled in a succession of plots instigated by Cardinal Richeleiu and carried out by the infamous 'my lady' or 'her ladyship', one of the fiercest and most deceitful female adversaries in literature. I'm glad I finally got around to reading this... overall, the tale makes for an enjoyable, adventuresome romp… not my favourite Dumas, but eminently readable. I found I struggled at first to care about the French politics, but since everything was both necessary to, and interwoven with, the plot, it soon consolidated itself with the rest of the story to become well-paced and dramatic.
Review by Lukerik
16/06/2015
WARNING: This book is highly addictive. It contains extremely high levels of swashbuckling. There are also some very funny scenes. Dogtagnan's first meeting with his landlord is particularly well done. The construction is impressive: it's manages to be episodic without losing sight of the plot.
Also in the Wordsworth Classics series | View all