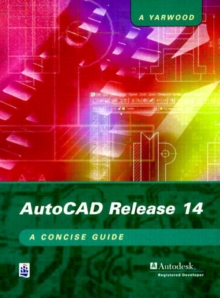 AutoCAD Release 14: A Concise Guide
Paperback
Description
AutoCAD is the most widely used CAD package in both education and industry.
The majority of students in engineering and construction will need to know how to use AutoCAD.
There are many new features to this release of AutoCAD including a new startup wizard, dialogue boxes, improved pull-down menus and right-click shortcuts.This book provides a concise guide to AutoCAD Release 14 for students coming to AutoCAD for the first time.
It explains only the most commonly used methods and techniques for the production of engineering drawings, and provides a more concise alternative to the author's Introduction to AutoCAD Release 14.The book can be used as a set of open learning materials.
It is extremely practical: very many commands are combined with hands-on examples, which help the learner to understand and use the commands effectively.AutoCAD Release 14: A Concise Guide is an essential introduction for students taking any course where AutoCAD is used, including City & Guilds Computer Aided Draughting and Design using AutoCAD (4351) and degree, BTEC HNC/D and Advanced GNVQ courses.A.
Yarwood is the author of many books in the area of computer and technical drawing, including An Introduction to AutoCAD Release 14, An Introduction to AutoCAD Release 13, AutoCAD Release 12 for Students, An Introduction to 3D Studio Max for Windows 95, and An Introduction to AutoCAD LT97, all published by Addison Wesley Longman.
He has been a teacher and examiner in the field for over 30 years and is a Registered Developer with AutoCAD's manufacturers, Autodesk.
Free Home Delivery
on all orders
Pick up orders
from local bookshops