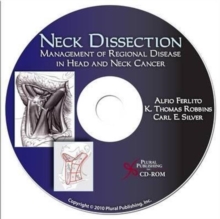 Description
The neck dissection has evolved over time by defining its applications, tailoring it to the extent and location of regional disease, thereby using this information to expand or reduce the magnitude of the surgery itself.
It has been labeled radical, functional, modified and selective depending on the sacrifice or preservation of certain muscles, nerves or vessels.
The aim, however, has always been to encompass the lymph nodes at risk of harboring cancer.
It has been described as elective (N0) or therapeutic (N+).
It has been declared useful and appropriate for treating the neck in conjunction with cancers arising in the thyroid, the skin, the salivary glands, and the mucosa of the upper aerodigestive tract.
In Neck Dissection: Management of Regional Disease in Head and Neck Cancer, Drs.
Ferlito, Robbins and Silver have done a masterful job in compiling the collective wisdom of the best minds in the discipline; past and present.
The information contained in the various chapters enlightens, inspires and challenges us. This book addresses the subject of node metastasis, its diagnosis, pathology, treatment and outcomes.Nothing is more important to the head and neck surgeon than to have a basic understanding of, and a "hands-on" familiarity with the various surgical options for treatment of cancer in the neck. The authors make it perfectly clear however, that it is still a work in progress.
This progress comes with a price. Surgeons today are confronted with many choices or options regarding management of the neck in any particular case.
No longer is only one type of dissection to be applied to all circumstances.
In addition, many of these new choices are more tedious and technically challenging than the standard radical neck dissection.
A poorly performed selective or modified neck dissection can result in an inadequate number or an inappropriate level of nodes removed, thus defeating its purpose.
Information
Format: CD-ROM
Pages: 450 pages
Publisher: Plural Publishing Inc
Publication Date: 30/11/2009
Category: Otorhinolaryngology (ENT)
ISBN: 9781597563130
Free Home Delivery
on all orders
Pick up orders
from local bookshops
Also by Alfio Ferlito