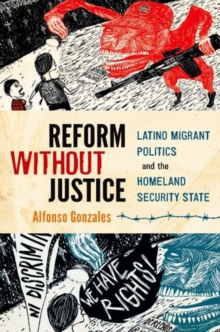 Reform Without Justice : Latino Migrant Politics and the Homeland Security State
Paperback / softback
Description
Placed within the context of the past decade's war on terror and emergent and countervailing Latino rights movement, Reform without Justice addresses the issue of state violence against migrants in the United States.
It questions why it is that, despite its success in mobilizing millions, the Latino immigrant rights movement has not been able to effectively secure sustainable social justice victories for itself or more successfully defend the human rights ofmigrants.
Gonzales argues that the contemporary Latino rights movement faces a dynamic form of political power that he terms "anti-migrant hegemony".
This anti-migrant hegemony, found in sites of power from Congress, to think tanks, talk shows and the prison system, is a force through which a rhetorically race neutral and common sense public policy discourse, consistent with the rules of post-civil rights racism, is deployed to criminalize migrants.
Critically, large sectors of "pro-immigrant" groups,including the Hispanic Congressional Caucus and the National Council of La Raza, have conceded to coercive immigration enforcement measures such as a militarized border wall and the expansion of immigration policing in local communities in exchange for so-called Comprehensive Immigration Reform. Gonzales says that it is precisely when immigration reformers actively adopt the discourse and policies of the leading anti-immigrant forces that the power of anti-migrant hegemony can best be observed.
Information
Format: Paperback / softback
Pages: 240 pages
Publisher: Oxford University Press Inc
Publication Date: 28/11/2013
Category: Migration, immigration & emigration
ISBN: 9780199342938