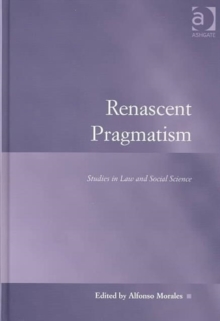 Renascent Pragmatism : Studies in Law and Social Science
Hardback
Description
Pragmatism is experiencing a resurgence in law, philosophy and social science, with pragmatists seeking a consistent, comprehensive and productive understanding of social life.
In its four sections Renascent Pragmatism aids the reinvigoration of pragmatism as an important intellectual tradition and contributor to inquiry and change in social life. The book is a first of its kind for combining essays on theory, method, public policy and empirical scholarship, presenting contributions from philosophers, legal scholars and social scientists.
Throughout the book, the concrete linkage between policy, theory and method is emphasized, while recognizing the philosophical tradition in which the inquiries and prescriptions rest.
Information
Format: Hardback
Pages: 278 pages
Publisher: Taylor & Francis Ltd
Publication Date: 22/08/2003
ISBN: 9780754621805