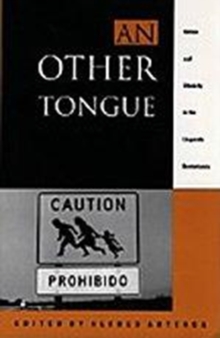 An Other Tongue : Nation and Ethnicity in the Linguistic Borderlands
Hardback
Description
As our millennium draws to a close, we find ourselves in the midst of great and rapid global changes with nations and political systems dissolving all around us and the world becoming one of shifting identities--of peoples unified and divided by such distinctions as nationality, ethnicity, race, religion, and colonial status.
The articulation and construction of these distinctions, the very language of difference, is the subject of An Other Tongue.
This collection of essays by a group of distinguished scholars, including Norma Alarcon, Gayatri Spivak, Tzvetan Todorov, and Gerald Vizenor, explores the interconnections between language and identity. The Chicanos, the U.S./Mexico borderland polyglots whose sense of history, nationality, and race is as mixed as their language, are the book's prime example.
But the authors recognize that border zones, like diasporas and post-colonial relations, occur globally, and their discussion of hybrid or mestizo identities ranges from the United States to the Caribbean to South Asia to Ireland.
Drawing on personal experience, readings of poetry and fiction, and cultural theory, the authors detail the politics of being human through the mediation of language.
What does "shadow" mean to the Native American Indian, or diaspora to the East Indian immigrant?
How does British colonialism yet affect Irish and Indian nationalist literary production?
Why is the split between Eastern and Western European language use necessarily schizophrenic?
So much of our sense of difference today is constructed as we speak, and An Other Tongue speaks with eloquence to this phenomenon and will be of great interest to those concerned with the discourse of post-colonial studies, critical theory, and the remapping of world literature.Contributors.
Norma Alarcon, Alfred Arteaga, Juan Bruce-Novoa, Cordelia Chavez Candelaria, Michael G.
Cooke, Edmundo Desnoes, Eugene C. Eoyang, David Lloyd, Lydie Moudileno, Jean-Luc Nancy, Tejaswini Niranjana, Ada Savin, Gayatri Chakravorty Spivak, Michael Smith, Tzvetan Todorov, Luis A.
Torres, Gerald Vizenor
Information
Format: Hardback
Pages: 312 pages
Publisher: Duke University Press
Publication Date: 15/06/1994
Category: Sociolinguistics
ISBN: 9780822314585
Free Home Delivery
on all orders
Pick up orders
from local bookshops