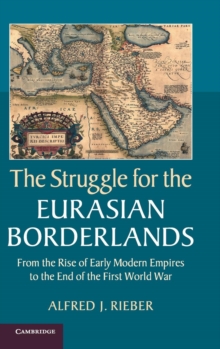 The Struggle for the Eurasian Borderlands : From the Rise of Early Modern Empires to the End of the First World War
Hardback
Description
This book explores the Eurasian borderlands as contested 'shatter zones' which have generated some of the world's most significant conflicts.
Analyzing the struggles of Habsburg, Russian, Ottoman, Iranian and Qing empires, Alfred J.
Rieber surveys the period from the rise of the great multicultural, conquest empires in the late medieval/early modern period to their collapse in the early twentieth century.
He charts how these empires expanded along moving, military frontiers, competing with one another in war, diplomacy and cultural practices, while the subjugated peoples of the borderlands strove to maintain their cultures and to defend their autonomy.
The gradual and fragmentary adaptation of Western constitutional ideas, military reforms, cultural practices and economic penetration began to undermine these ruling ideologies and institutions, leading to the collapse of all five empires in revolution and war within little more than a decade between 1911 and 1923.
Information
Format: Hardback
Pages: 652 pages, 12 Maps
Publisher: Cambridge University Press
Publication Date: 20/03/2014
Category: European history
ISBN: 9781107043091