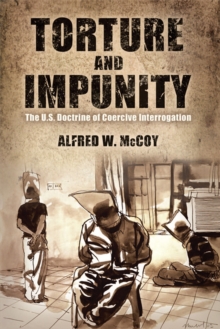 Torture and Impunity : The U.S. Doctrine of Coercive Interrogation
Paperback / softback
Description
Campaigning for the presidency in 2008, Barack Obama offered an impassioned denunciation of the 'enhanced' interrogation techniques used by the Bush administration in its War on Terror - methods that included sensory deprivation, self-inflicted pain, and waterboarding.
But four years later America has yet to prosecute or punish these abuses.
Tracing the origins of this knotty contradiction from the 1950s to the present, Alfred W.
McCoy probes the political and cultural dynamics that have made impunity for torture a bipartisan policy of the U.
S. government under presidents Bush and Obama. During the early years of the Cold War, the U.S. Central Intelligence Agency covertly funded psychological experiments designed to weaken a subject's resistance to interrogation.
For many of those subjected to these experiments, the result was an experience akin to psychosis.
Leaving its most lasting scars on the psyche rather than the body, such torture lent itself to propagation, and for three decades the U.S. shared these methods with its anti-Communist allies around the globe.
After the terrorist attacks in the U.S. on September 11th, 2001, the CIA opened its own prisons, and American agents began, for the first time, to dirty their hands with waterboarding and wall slamming.
Simultaneously, mass media offered enticing, often eroticized simulations of torture in film, television, and computer games that normalized this illegal practice for millions of Americans.
In the absence of legal sanction for the perpetrators or the powerful who commanded them, media exposes and congressional hearings have proved insufficient deterrents.
The American public, preoccupied with the nation's failing economy, has seemingly moved on.
But the images of abuse from Abu Ghraib and Guantanamo are seared into human memory, doing lasting damage to America's moral authority as a world leader.
Information
Format: Paperback / softback
Pages: 298 pages
Publisher: University of Wisconsin Press
Publication Date: 15/07/2012
Category: Penology & punishment
ISBN: 9780299288549
Free Home Delivery
on all orders
Pick up orders
from local bookshops