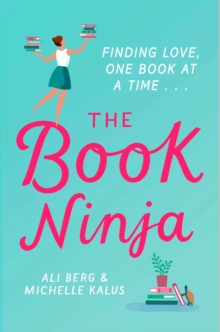 The Book Ninja
Paperback / softback
Description
**Could you find your perfect man by looking at his book shelf?** 'Frankie, think about it.
Literature is your life. You've been trawling Tinder looking for well-read intellectuals, but it's not working.
Let's shake things up! Just use your favourite books to find a man.' Frankie Rose is desperate for love. Or a relationship. Or just a date with a semi-normal person. It's not that she hasn't tried - Frankie is the queen of online dating.
But she has had enough. With the help of her best friend and colleague Cat, Frankie decides to embark on the ultimate dating experiment.
Inspired by her surroundings at The Little Brunswick Bookshop where she works, Frankie places her hope in her favourite books to find her the perfect man...
Secretly planting copies on trains, trams and buses, Frankie hopes to find the man of her dreams through a mutual love of good books.
The only flaw to the plan? That she may never get her books back! But that turns out to be the least of her worries...
In between crazy dates and writing them up on her blog, Frankie stumbles upon her perfect man.
There's just one problem...Frankie is strictly a Jane Austen kind of woman and Sunny is really into Young Adult.
Seriously, obsessively into it... Can Frankie overcome her book snobbery for the man of her dreams? Or will she be left searching the trains for her modern-day Mr Darcy forever? ~*~ Hear what fans are saying about The Book Ninja ~*~ 'Sure to make you smile.
Brimming with bookish banter'`The Book Ninja was an absolutely delightful read, full of quirky bookish themes, sweet and yet flawed characters and, of course, a liberal dose of humour that left me giggling throughout.
This book warmed my heart, and left me feeling all kinds of warm and fuzzies after I finished it.'`If you're looking for a funny, light-hearted, book-nerdy read, pick this up ASAP' `This was a delightful read that I became completely consumed by and finished in one sitting!' `This was a lot of fun to read because it's so relatable and I loved the whole book aspect of it'`I loved it, better than pizza and I look forward to seeing what Ali Berg and Michelle Kalus come up with next.'`The perfect book to tackle a book-reading slump'`It's wonderful to finally have a book to recommend for fans of The Rosie Project'
Information
Format: Paperback / softback
Pages: 352 pages
Publisher: Simon & Schuster Ltd
Publication Date: 09/08/2018
ISBN: 9781471177163
Free Home Delivery
on all orders
Pick up orders
from local bookshops