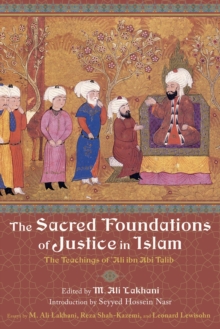 The Sacred Foundations of Justice in Islam : The Teachings of Aliibn Abi Talib
Paperback
Description
Through the wisdom of his teachings, their profound metaphysical insights and practical guidance, and the exemplary life that he led, 'Ali ibn Abi Talib (599-661) is regarded as a paragon of wisdom, piety and virtue and is not only a great Muslim but a great religious leader whose universal message of truth is relevant for all time.
The son in law of the prophet Mohammed, he is revered by both Sunni and Shi'a Muslims, for whom he is the first Imam and the Prophet's spiritual successor.
He was assassinated in 661. "The Sacred Foundations of Justice in Islam" is an anthology of essays on the teachings of the first Shia Imam (the fourth Caliph of Sunni Islam and one of the forefathers of Sufism) dealing with the metaphysical foundations of human governance.
The issues explored in the book include: what is meant by justice?
What does it mean to be just? How is justice related to truth and to the very structure of reality?
Does justice have merely a public dimension or is it rooted in a transcendent dimension that is found within oneself?
What is the relevance of Iman 'Ali's conception of Justice to the modern world?
Information
Format: Paperback
Pages: 192 pages
Publisher: World Wisdom Books
Publication Date: 02/11/2006
Category: Islam
ISBN: 9781933316260