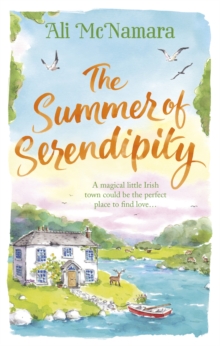 The Summer of Serendipity : The magical feel good perfect holiday read
Paperback / softback
Description
'Wonderfully romantic, full of mystery and magic. I fell in love with Ballykiltara!' - Cathy BramleyYou'll find a warm welcome in the latest novel from Ali McNamara, bestselling author of The Little Flower Shop by the Sea and From Notting Hill with Love, ActuallyOne summer, property seeker, Serendipity Parker finds herself on the beautiful west coast of Ireland, hunting for a home for a wealthy Irish client.
But when she finds the perfect house in the small town of Ballykiltara, there's a problem; nobody seems to know who owns it. 'The Welcome House' is a local legend. Its front door is always open for those in need of shelter, and there's always a plentiful supply of food in the cupboards for the hungry or poor.
While Ren desperately tries to find the owner to see if she can negotiate a sale, she begins to delve deeper into the history and legends that surround the old house and the town.
But for a woman who has always been focussed on her work, she's remarkably distracted by Finn, the attractive manager of the local hotel. But will she ever discover the real truth behind the mysterious 'Welcome House'? Or will the house cast its magical spell over Ren and help her to find true happiness?'Breathtakingly scenic, full of love, friendship, romance, magic... made me want to move to Ballykiltara right away' - Alex Brown, author of The Secret of Orchard CottageWhat readers are saying about The Summer of Serendipity'A really heartwarming novel' - The Booktrail'Make sure you pack it into your case for any summer trips you might be planning' - t*rexes and tiaras'A magical read full of mystery, romance and mythical Irish charm.
This summery novel will make you look at your own life with new eyes and see that spark of magic in the stories that surround you every day' - Laura Bambrey Books'A book guaranteed to lift your spirits this summer' - charlenejess.wordpress.com'A lovely, warm and sweet read' - Bleach House Library'This book entranced and mystified me.
I was desperate to discover the secret of the welcome house, just as much as Ren was.
The book pulled me in and its mixture of fun and folklore kept me turning pages till the end' - Rachale's Reads'An enticing novel, bringing together a wonderful story, filled with friendly, realistic characters, gorgeous scenery, and a little bit of magic' - Whispering Stories'Another warm and funny love story from Ali and I highly recommend escaping with it this summer' - One More Page'This book is perfect if you are looking for a summer read for the holiday you're about to take or if you simply want to escape to Ireland for a while from the comfort of your armchair or garden lounger.
Ali's writing is welcoming, warm and romantic. I love her and I adored this book (if you couldn't tell already.)' - Novel Kicks'Everything you need for a holiday read... it's humorous, it's magical and it's so full of delightful charm that you can't help but enjoy it!' - The Quiet Knitter'I had a feeling I would fall in love with this tale and that's exactly what I did!' - Fiction Dreams'I loved this book from start to finish' - Kelly's Book Corner'A magical and charming read, rich in scenery and community that'll make you fall in love' - Samantha Kilford'A charming and engaging read' - Cosmochicklitan'A lovely summer read...a gentle, rather charming book' - The Literary Shed'Truly fabulous, full of adventure, laughter and some great characters too!' - Miss Bookworm Reviews'Great summer time read' - The Gingerbread House'The perfect summer read' - Fabulous Book Fiend
Information
Format: Paperback / softback
Pages: 368 pages
Publisher: Little, Brown Book Group
Publication Date: 11/07/2017
ISBN: 9780751566208
Free Home Delivery
on all orders
Pick up orders
from local bookshops