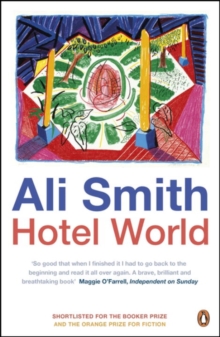 Description
Ali Smith's masterful, ambitious Hotel World was shortlisted for the Booker Prize and the Orange Prize.Five people: four are living, three are strangers, two are sisters, one is dead.
In her highly acclaimed and most ambitious book to date, the brilliant young Scottish writer Ali Smith brings alive five unforgettable characters and traces their intersecting lives.
This is a short novel with big themes (time, chance, money, death) but an eye for tiny detail: the taste of dust, the weight of a few coins in the hand, the pleasurable pain of a stone in one's shoe . . .'Ali Smith has got style, ideas and punch. Read her' Jeanette Winterson 'An extremely readable, easy-flowing writer and one of the subtlest and most intelligent around.
Hotel World is essential reading from a writer confirming herself as a major talent. . . a wonderful piece of sustained imagination' Independent'As infectious as a pop song, the story bursts open form the very first page and demands to be read in one sitting' The Times
Information
Format: Paperback
Pages: 256 pages
Publisher: Penguin Books Ltd
Publication Date: 25/04/2002
ISBN: 9780140296792
Free Home Delivery
on all orders
Pick up orders
from local bookshops
Reviews
Showing 1 - 5 of 5 reviews.
Review by melibrarian
16/06/2015
+ Well-written, interesting voices & prose.- Sometimes the artsy prose was too much, I wish there was a "wow" moment when you find out everybody is connected (instead, the knowledge trickles out throughout the book.)
Review by HippieLunatic
16/06/2015
I was pulled in by the different styles of voice, but I was left a bit unsatisfied by not having a moment of clarity at the end of the book.
Review by Rhinoa
16/06/2015
Hotel World tells the story of a young woman who starts working at a hotel chain and dies. She climbs into a dumb waiter, but it is old and snaps and she falls down the shaft being killed on impact. There was one witness, a boy who she worked with and got along well with. The girl had recently fallen in love for the first time and was shocked to find it was with another girl. The tale is split into sections told by different people with connections to the hotel and the dead girl. The first narrator is the ghost of the girl herself. I loved the way she is portrayed as not really remembering who she was and being able to appear to her family. The second character is Else, a homeless lady who asks for change outside the hotel. She is offered a free night in the hotel by a receptionist (the third narrator). The fourth character is a guest at the hotel, a journalist who reviews the hotel. The next story is that of the dead girls sister and how it has affected her. The final story is the girl in the watch shop who had been the object of the dead girls love.I loved this short novel. It read like a series of short stories that were interconnected. Somehow Ali is able to change her writing style so it really does feel like you are reading the thoughts of different people. I also warmed to all the characters, even the journalist and loved how little comments from one persons story had an affect on another characters.
Review by melydia
16/06/2015
This book is distilled insanity. It's told from the more or less stream-of-consciousness points of view of five women whose lives intersect in a certain hotel: a dead teenager trying to remember her past, her sister working through her grief, a self-absorbed journalist, a bed-ridden invalid, and a barely coherent homeless woman. I wish I could explain the plot, but there really isn't one - just snapshots of life that happen to overlap a bit. That said, it was kind of a fun read in places. The ghost's manic descriptions were fun, the journalist's ignorance was amusing, and some of the writing style was novel. Plus, it was short enough that I never felt overtaxed by any one character - save the sister, whose entire chapter contained no punctuation. That was exhausting to read.
Review by pussreboots
16/06/2015
Hotel World started out strong and then petered out. By the time I had gotten to the long run-on sentence chapter done by Clair I had lost interest in the book.