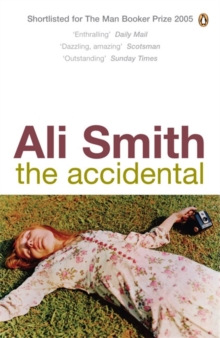 Description
The Accidental is Ali Smith's dazzling novel about a family holiday and a stranger who upends it.
Arresting and wonderful, The Accidental pans in on the Norfolk holiday home of the Smart family one hot summer.
There a beguiling stranger called Amber appears at the door bearing all sorts of unexpected gifts, trampling over family boundaries and sending each of the Smarts scurrying from the dark into the light.A novel about the ways that seemingly chance encounters irrevocably transform our understanding of ourselves, The Accidental explores the nature of truth, the role of fate and the power of storytelling.'A beguiling page-turner. . . a brilliant creation. To read The Accidental is to be excited from first to last' Independent'Joyous, a shot across the bows. . . writing as rapture, as giddy delight' The Times'Brilliant and engaging, frequently hilarious. . . Smith makes one look at the world afresh' Sunday Telegraph
Information
Format: Paperback
Pages: 320 pages
Publisher: Penguin Books Ltd
Publication Date: 06/04/2006
ISBN: 9780141010397
Free Home Delivery
on all orders
Pick up orders
from local bookshops
Reviews
Showing 1 - 5 of 11 reviews.
Previous | Next
Review by michaeldwebb
16/06/2015
Starts off great, wonderfully written from different viewpoints, buts gradually turns slightly bitter and predictable. If I'd only read the first half I'd probably have loved this.
Review by hotchk155
16/06/2015
Most unusual. Written in a random stream-of-consciousness style - or several streams as we flip between the disintegrating minds of the members of a disintegrating family. The erratic feel is emphasized by the books layout; half-missing paragraphs and pages with type snaking over them. A lot of loose plot ends are left hanging and there is a recursive twist to the end of the story, but you'd expect nothing less of the unpredictable package that is this book.There is something fresh and rewarding, mind altering and expanding about this read, but there is frustration and confusion too. Its the kind of book that probably makes a lot more sense on a second reading, that is if I ever get round to it!
Review by Yorkshiresoul
16/06/2015
I thought that within a few pages this wasn't going to be the sort of book that I would enjoy, but sat in the kitchen on a long, empty Sunday afternoon I got through 100 pages or so, about a third of the book, and found it quite enjoyable.The structure of the novel is a little odd, it is told in stream of consciousness / thought processes of four of the five protagonists, thus the actual plot can often be buried within, or distracted by, fairly random thoughts about girls, dinner, home movies, the weather or any of the myriad small things that attract and distract us all on a daily basis.The only mind you don't get to see into is the most intriguing, Amber walks into a family holiday home where each of the four family members are so self occupied that they all assume the girl is something to do with one of the others and nobody, for a while at least, questions her right or reason to be there.Amber acts as a mirror of conscience for the husband and wife, saviour and lover to their teenage son and confidante to their daughter. Each person finds something of their selves in her, something often left in the past or unacknowledged in the present.So far so good then, so why only three stars ? Well I found the end of the book a tremendous disappointment and rather baffling. I won't tell you what happens and spoil it for you, but I don't think the events in the last few chapters do justice to the rest of the book.
Review by deargreenplace
16/06/2015
Eve and her husband Michael are writers. They and their children Astrid and Magnus have rented a holiday home in Norfolk for the summer, so that Eve can work on her new book. One evening, a stranger named Amber arrives at the door claiming that her car has broken down.Amber gradually worms her way into each family member's life. Each chapter is told from the perspective of a different family member, and we see only their perceptions of Amber as she doesn't have a voice. It soon transpires that Amber is a little unorthodox, and the book is about how Eve, Michael, Astrid and Magnus deal with this.This book is perfectly well-written, and I enjoyed Astrid and Magnus's chapters (Eve and Michael aren't the most sympathetic characters you'll ever come across) but the ending left me feeling quite ambivalent about the whole story. It didn't seem like it had much to say really, and I certainly wasn't gripped by any of the plotting, such as it was. I wondered if I had missed the point actually, given that I didn't get the Alhambra thread one little bit, but maybe it just wasn't my kind of story. There are plenty more interesting books to read than this I think.
Review by madhuri_agrawal
16/06/2015
This was my first book by the author, and I liked reading it, though I think the book was very rudderless. It had four different narrators, each of them member of a forcefully tied, fragmented family who suddenly meet an unknown woman and she becomes somehow central to each of their lives. The annoying thing was that the woman remains a mystery throughout and it is unclear where she comes from and why. A different read, though, with a poetic ending.