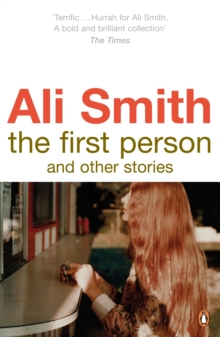 The First Person and Other Stories
Paperback
Description
The First Person and Other Stories is the fourth collection of short stories by Ali Smith.
The First Person and Other Stories effortlessly appeals to our hearts, heads and funny bones.
Always intellectually playful, but also very moving and funny, Smith explores the ways and whys of storytelling.
In one, a middle-aged woman conducts a poignant conversation with her gauche fourteen-year-old self.
In another, an innocent supermarket shopper finds in her trolley a foul-mouthed, insulting and beautiful child.
Challenging the boundaries between fiction and reality, a third presents its narrator, 'Ali', as she drinks tea, phones a friend and muses on the relationship between the short story and - a nymph.
Innovative, sophisticated and intelligent, the stories in The First Person and Other Stories are packed full of ideas, jokes, nuance and compassion. Ali Smith and the short story are made for each other.'Smith's is a profoundly optimistic vision.
These stories are frightening yet funny, and the sheer exuberance and playfulness of her language endows dark matters with a lightness of touch' New Statesman'She's a genius, genuinely modern in the heroic, glorious sense' Alain de Botton'Terrific . . . hurrah for Ali Smith . . . The best short-story writers make it look as easy as making a cup of tea.
Ali Smith is one of these . . . A bold and brilliant collection of stories by a writer unafraid to give it to us as it is' Times'A glorious collection that celebrates and subverts the short story form' Independent
Information
Format: Paperback
Pages: 224 pages
Publisher: Penguin Books Ltd
Publication Date: 01/05/2009
ISBN: 9780141038018
Free Home Delivery
on all orders
Pick up orders
from local bookshops
Reviews
Showing 1 - 5 of 5 reviews.
Review by Rhinoa
16/06/2015
A fresh collection of short stories from Ali Smith. The first story was definitely my favourite and looked at the form of short stories set with a cancer patient as the backdrop. There is a new expensive drug that could help lots of women, but as it's expensive is not readily prescribed by doctors. The other one that really stood out was what happens when a woman is shopping in a supermarket and when she turns back to her trolley there is a toddler in it who calls her Mummy and everyone assumes is hers. I love how she deals with the situation. I like how most of the stories feel like they could actually have happened in Smith's real life. She is excellent at blending reality with fantasy. Unfortunately they didn't grab me as much of some of her other collections and stories so I wouldn't recommend this for your first dip into Ali Smith's world.
Review by CarltonC
16/06/2015
Another lovely collection of playful short stories. Some work well, but others whilst they read beautifully, feel empty. Enough gems to justify the read, especially if you like Borges' stories.
Review by pokarekareana
16/06/2015
I was expecting something quite special, as I'd read a lot of good reviews, but the word that springs to mind is "forgettable". I carried on until the end, but was glad when I got there - reading this was a bit of a chore.
Review by liliannattel
16/06/2015
Interesting and innovative use of point of view. Unusual writing but it held me unlike some experimental work. I want to read more of her work.
Review by MarthaJeanne
16/06/2015
I suppose that there might be some point hidden in these pieces of writing. I don't see it though, and most of them don't even really qualify as stories to someone old fashioned like me who assumes that a story will have a plot.