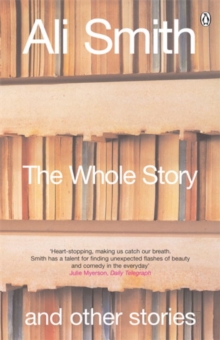 The Whole Story and Other Stories
Paperback
Description
A brilliant new collection of stories from a much loved and highly praised author.Stories for people who've grown up being told time is running out - and don't want it to . . . How do you ever know the whole story? How do you ever know even part of the story? How do you find meaning when chance and coincidence could, after all, just be chance and coincidence? In a celebration of connections and missed connections, an inquiry into everything from flies and trees and books to sex, art, drunkenness and love, Smith rewrites the year's cycle into a very modern calendar.
Information
Format: Paperback
Pages: 224 pages
Publisher: Penguin Books Ltd
Publication Date: 24/06/2004
Category: Short stories
ISBN: 9780140296808
Free Home Delivery
on all orders
Pick up orders
from local bookshops
Reviews
Showing 1 - 1 of 1 reviews.
Review by Rhinoa
16/06/2015
Twelve short stories are collected here by Scottish author Ali Smith. Rather than go through all of them I will just mention a few that really caught my imagination. Being Quick is a strange story were Death is seen at a Kings Cross train station. The narrator switches between the person who saw Death and their partner at home and you are unsure reading the tale if one will die or is dead. Very unsettling and complicate yet so very simple.May is a tale of someone who falls in love with a tree. Again the tale is told from two narrators perspective giving both sides of the story. Believe Me is a tale of two lovers lying in bed together claiming they are sharing the same man. It is unclear if they are both teasing the other or speaking the truth. The Heart of the Story follows three drunk women who go to a church for midnight mass to wamr up. After being thrown out two leave to get a taxi and it is implied the youngest is homeless. The Start of Things tells the story of a breakup and how it began.There are definite themes running through the tales which leads to a sense of cohensiveness. Many are to do with relationships and also nature (in particular trees). Ali also often switches narrative throughout the stories giving different perspectives which she is particularly adept at. She plays the pronoun game a lot not specifying whether her narrators are male or female which led me to check her sexuality. It was no surprise to find out she is a lesbian which means her tales are unspecific as to whether her characters were straight or in gay relationships which was interesting. I liked the ambiguity and it makes each tale read slightly differently depending on your assumptions so you get more than one story per reading!