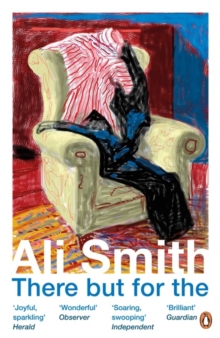 There But for the
Paperback
Description
There but for the is the sparkling satirical novel by bestselling Ali Smith'There once was a man who, one night between the main course and the sweet at a dinner party, went upstairs and locked himself in one of the bedrooms of the house of the people who were giving the dinner party . . .'As time passes by and the consequences of this stranger's actions ripple outwards, touching the owners, the guests, the neighbours and the whole country, so Ali Smith draws us into a beautiful, strange place where everyone is so much more than they at first appear.
There but for the was hailed as one of the best books of 2011 by Jeanette Winterson, A.S.
Byatt, Patrick Ness, Sebastian Barry, Boyd Tonkin, Erica Wagner and Nick Barley.'Dazzlingly inventive' A.S.
Byatt'Whimsically devastating. Playful, humorous, serious, profoundly clever and profoundly affecting' Guardian'A real gem' Erica Wagner, The Times'Eccentric, adventurous, intoxicating, dazzling.
This is a novel with serious ambitions that remains huge fun to read' Literary Review'If you liked Smith's earlier fiction, you will know that she enjoys setting up a situation before chucking in a literary Molotov cocktail then describing what happens' Sunday Express'Wonderful, word-playful, compelling' Jeanette Winterson'Smith can make anything happen, which is why she is one of our most exciting writers today' Daily Telegraph'I take my hat off to Ali Smith.
Her writing lifts the soul' Evening Standard
Information
Format: Paperback
Pages: 384 pages
Publisher: Penguin Books Ltd
Publication Date: 05/07/2012
ISBN: 9780141025193
Other Formats
EPUB from £3.99
CD-Audio from £15.45
Free Home Delivery
on all orders
Pick up orders
from local bookshops
Reviews
Showing 1 - 3 of 3 reviews.
Review by SandDune
16/06/2015
Another of those books that I can't make my mind up about. Did I really like it or did I not? Was it a beautifully constructed book or one that is just too clever for its own good? At the moment I'm leaning to the first of those opinions and my immediate reaction on finishing it is to want to read it again more slowly. In the prosperous London district of Greenwich Genevieve and Eric Lee are giving a dinner party: their annual party where they try to invite people a little different from those that they usually see. But after the main course one of the guests absents himself from the table, seemingly to go to the bathroom. When he does not reappear it is discovered that he has locked himself in the spare bedroom. And there he stays, refusing to come out, refusing to talk to anyone or explain himself, as the days, weeks, months pass. It soon becomes apparent that even the person who invited him to the dinner party really knows very little about him, and as the owners of the house become increasingly desperate to get rid of their unwanted house guest they resort to going through the contact list on his phone to try to connect with anyone who might be able to help.The story is told, in a non-linear narrative, from the point of view of four people whose lives have interacted with the guest Miles. Anna, a forty-something woman, disillusioned with her job dealing with refugees, had met Miles on a coach tour of Europe thirty years before. Mark, a sixty year old gay photograph researcher, still mourning for his dead lover after twenty years, had invited him to the dinner party which he thought would be unbearable to attend on his own. For May Young, an eighty year old widow losing the fight with dementia, Mark had been a constant presence on a certain day of the year. And Brooke Bayoude, the precocious and clever ten year old daughter of the Lee's neighbours, who eventually shows that she has a better understanding of Miles than any of them. As each narrator tells their story we learn a little more of Miles's life but far more about the narrators themselves. This is not a book for those that like their endings neatly packaged.So far, so good. But I did have my doubts. The hostess, Genevieve Lee, seems too much of a caricature to be taken seriously. And the dinner party (narrated by Mark) was slightly too much like an updated version of 'Abigail's Party': full of awful people not knowing how awful they were. The dinner party was my main problem with the book: it seems difficult to believe that at a dinner party in Greenwich, part of one of the most multi-cultural cities in the world, the white guests would be so unaccustomed to meeting anyone who was black. From asking if the Bayoude's had ever seen a tiger 'at home' (they come from Yorkshire) to wondering why they knew so much about the culture of Northern England rather than 'their culture', the conversation doesn't seem to fit the demographics of the group. And the gay Mark and the vegetarian Miles seemingly present equal challenges.So overall an interesting and thought provoking (though slightly flawed) read and one which has certainly made me want to read more of Ali Smith's work.
Review by Elainedav
16/06/2015
This was a really quirky but enjoyable book to read. The book is divided into four sections: there, but, for and the. Each section is about a different character and eventually you start to see how their stories connect. Much of the narrative is written as a reflection of the character for that section and the author has cleverly written commentary about language and specifically the title of the section into this narrative. The two that stick in my mind are the reflection of 'being "there" on a train' by not being distracted my making a phone call for instance and Brooke's reflections on the use of the word 'the' - leaving it out of a sentence when it is implied and then using it twice in a row when referring to the word the itself. This attention to detail gives the book a real depth. All the way through there are bits and pieces which are left unexplained. I liked this aspect too as the reader can use their own imagination to fill in the blanks.
Review by RandyMetcalfe
27/08/2015
With typical brio and dash, Ali Smith weaves an intricate tale of coincidence and consequence set in contemporary London, mostly in and around Greenwich. A dinner party at the home of an insufferably bourgeois couple serves as the locus of interaction where Mark Palmer, Miles Garth, Brooke Bayoude (and her parents), and a number of others spill secrets and wine while Mark's memories, insistent and poignant, pummel him, and ten-year-old Brooke's precociousness dazzles (or annoys) and Miles transforms the evening into something remarkable by, eventually, locking himself in the upstairs spare bedroom and not coming out for, literally, months.Smith is at the height of her loquacious powers, especially (but not only) in the voice of young Brooke. This level of wit and banter, punning jokes and linguistic legerdemain, is usually reserved for BBC Radio 4 panel shows. Here, it just barely avoids becoming twee. Indeed, it might not be a style that travels well. But I liked it well enough and it certainly lends itself to superficially philosophical badinage, which might, if one were feeling generous, not in fact be considered superficial. Bring a breezy attitude to this work and you will find it may tickle your fancy or your funny bone. And on that basis, I recommend it.