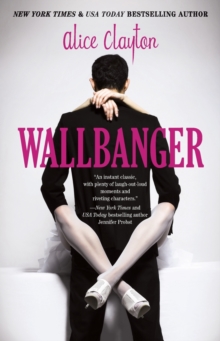 Description
Caroline Reynolds has a fantastic new apartment in San Francisco, a Kitchen Aid mixer to die for, and no O (and we're not talking Oprah here, folks).
She has a flourishing design career, an office overlooking the bay, a killer zucchini bread recipe, and no O.
She has Clive (the best cat ever), great friends, a great rack, and no O.
Adding insult to O-less, she also has an oversexed neighbour with the loudest late-night wallbanging she's ever heard.
Every moan, spank, and-was that a meow?-punctuates the fact that not only is she losing sleep, she still has-yep, you guessed it-no O.
Enter Simon Parker. When the wallbanging threatens to literally bounce her out of bed, Caroline, clad in sexual frustration and a pink baby-doll nightie, confronts her heard-but-never-seen neighbour.
Their late-night hallway encounter has...well...mixed results. Because with walls this thin, the tension's gonna be thick.
A delicious mix of silly and steamy, this is an irresistible tale of exasperation at first sight.
Information
Format: Paperback
Pages: 384 pages
Publisher: Simon & Schuster
Publication Date: 13/08/2013
ISBN: 9781476741185
Other Formats
EPUB from £5.99
eAudiobook MP3 from £20.12
Free Home Delivery
on all orders
Pick up orders
from local bookshops
Reviews
Showing 1 - 5 of 8 reviews.
Previous | Next
Review by NorasueBlack
16/06/2015
I dare you to read this and keep a straight face. I dare you to read this and not feel the fairy tale tug at you and pull you in. An achievement in magic very rarely wrought, this is a flight into romance as it should be, and has never before been told. Drown yourself in the delicious tension Alice Clayton builds as she unreels a yarn of awe inspiring wonder. Tag along while Simon and Nightie Girl sleuth out the lost O (giggle). This should be prescribed reading for.... Well everyone really. I challenge you not to enjoy this; I'll lose.
Review by GirlMisanthrope
16/06/2015
I do not enjoy chick lit. It is the book equivalent of the free lolly pops the cheap Denny's-like diners hand out at the cash register at the end of a meal: sugary froth that you won't remember once the wrapper is thrown away.And this one has the formulaic items present:*a couple of girlfriends who are opinionated, loud, and often tipsy*everyone has fabulous jobs in a fabulous city*each character is beautiful*silly self-talk (which approaches the purely ridiculous here)*long, drawn-out, fake tension between the two MC's who will eventually have world-altering sex.So do I really need to tell you anything else about this book? I will tell you there are some charming moments. Simon's love for Caroline's baking. The texting. The cat appears to have the most fulfilling life.It's okay, give in. You won't remember it after you hit the back cover.
Review by janersm
16/06/2015
We have yet another piece of Twilight fanfiction to become a book. This one is actually one of the better ones that I've read in that new pseudo-genre. It reminds me of romantic comedies. Honestly, if this were a movie coming out in the early 90s, someone in Hollywood would have cast Hugh Grant as Simon, even if Simon should look more gorgeous than Hugh. (Sorry, dude, it's true.)The book was cute and very funny. I laughed a lot while reading it. It wasn't like the writer was trying too hard to be funny. The humor and jokes in the story just felt natural. I also loved how Caroline anthropomorphized her cat's behaviors and actions. Clive became yet another character, instead of just being a prop in the story. And I really enjoyed the interactions between Simon and Caroline. They were much more realistic than most relationships in romance novels.I didn't like all of the texts that were in the stories. They were cute and funny, and they helped move the story along, but it was a bit hard to keep up with who was saying what. Is it too much to ask for something like that to have a way to distinguish who is saying what? I spent more time trying to figure out who sent what text than actually reading those texts. Maybe I'm lazy, but it seems like something like that should be a bit easier to read through.I don't know the author's background, but I often felt like the book had more of a British style to it. The characters didn't exactly "sound" American. Some of their choices for slang were just more like what you'd read in a book featuring characters from across the pond. Even the name choices came across as more British than American.Now, even though a lot of people would shy away from this book because it is, as I mentioned, a former piece of fanfiction, I would recommend they check it out anyway. It's a cute read. It's very enjoyable and I definitely think that even non-Twilight fans would find something to love about this book.
Review by B.J.O.
16/06/2015
WALLBANGER is a hilarious, romantic tale of a very unusual path to love. Alice Clayton's way with words, crazy plot and the development of two very interesting characters who drive each other crazy with sexual tension are just a few of the many things that make WALLBANGER a must read. Apparently many other readers agree, as the popularity of this contemporary romance has reached an impressive height, scoring an average rating of 4.21 on Goodreads from over 71,500 readers!Caroline and Simon meet after one of the most unlikely scenarios imaginable. Caroline has just moved into her new apartment, which she is subletting from her boss (who neglects to inform her of Simon), and rather than being treated to a housewarming party, she is continuously serenaded by a late night "wallbanger" and his "harem" all of which make some pretty hysterically funny, memorable sounds at crucial points. Not that that alone would not be annoying enough, but add to the mix a missing "o" (orgasm), which disappeared on Caroline following a rather disastrous sexual experience, and you have the recipe for a whole new level of frustration. Unable to resist any longer, Caroline storms over to Simon's apartment in the middle of a particularly loud "wallbanging", clad in only her pink babydoll nightie, earning her the nickname "Pink Nightie Girl" and sparking an undeniable mutual attraction. But, Caroline refuses to be the newest inductee to the "harem" and Simon has never had any other type of relationship, so they embark on defining a whole new type of "friend" relationship, both desperately trying not to cross the line. Can Caroline and Simon possibly find a HEA under these atypical conditions? I loved this book. The romance was so well developed and road was so chock-full of witty banter along the way, that I just couldn't help but fall in love with it. Alice Clayton is a master at sexual innuendo, including a number of very memorable ones involving food. I've heard it said before, but no body writes it better than Ms. Clayton: the way to a man's heart is through cooking. I better brush-up on some of my old recipes! I also loved the way she worked in Caroline's cat, Clive, making him the star in a number of comical moments. WALLBANGER is a truly unique 5-star read that should not be missed by lovers of witty banter and comical contemporary romances!Source: Review copy provided by the publisher via NetGalley in exchange for an honest review.
Review by ljtljtljt
27/08/2015
I just loved this book! The writing is crisp and clever, while the plot moves along at a nice clip. Never a dull moment with interior designer Caroline Reynolds (or should it be decorator, LOL) and professional location photographer Simon Parker.Caroline and Simon are apartment neighbors that share a wall in their respective bedrooms. As a result of Simon's sexual appetite, his bed bangs against the wall whenever he has a lady-friend over. The neighbors finally meet when Caroline confronts him about all the banging...and the rest as they say is history.This is a humorous, romantic comedy with lots of sexual banter. Clive, Caroline's human-like cat adds another dimension to a storyline complete with great characters, delicious baked goods, the art of finding one's orgasm and falling in love.Can't wait to read the next book in the series.
Also in the The Cocktail Series series | View all