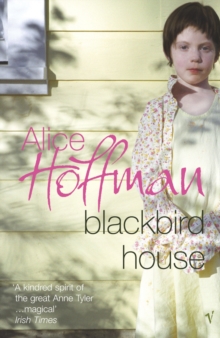 Blackbird House
Paperback
Description
From the great May storm in 1778 when John Hadley and his sons slip the British blockade off the coast of Massachusetts only to disappear at sea, the lives of the inhabitants of the wooden farmhouse on the cape, stranded amid fields of sweet peas and wild fruit vines and red pear trees, coil and weave around each other, right up to the present.
Young Isaac Hadley is more interested in his pet blackbird and the star charts in The Practical Navigator than in helping to build the house; and Violet, a century later, with her stained face and her own ghostly bird, reads the same book, and finds that it's easy enough to trick a learned man, though harder to catch one...Larkin Howard is ready to sell his soul to buy the farm, but meets a woman who hears the whales cry on the beach; while in another century the young Farrell boy sees more than he should on a snowy night- and the pond out back is still dark and unforgiving beneath its deceptively golden lilies.
By the 1950s, the farmhouse is part of a community of steady men and wayward boys, and women who make jam but still feel the ghostly breath of Cora Hadley, with her green fingers. As a second century draws to a close and summer visitors from the cities take over the countryside, the house can barely hold all its ghosts, but the tragedies are not over...With a sense of place that is uncanny, and vividly real characters whose lives don't run smooth and whose stories loop together across space and time, this is a remarkable, haunting and accomplished work from a favourite novelist - an irresistible fiction about a house for all seasons.
Information
Format: Paperback
Pages: 240 pages
Publisher: Vintage Publishing
Publication Date: 07/07/2005
Category: Historical fiction
ISBN: 9780099453871
Free Home Delivery
on all orders
Pick up orders
from local bookshops
Reviews
Showing 1 - 1 of 1 reviews.
Review by Rhinoa
16/06/2015
A series of short stories by the wonderful Alice Hoffman all set in or around the same isolated house. It is originally build by a husband for his wife and two sones. They plan on starting a farm and a garden when he is lost at sea along with their two young children. The youngest son's pet blackbird who refused to fly escapes and makes it back home, but has turned white during the ordeal. The house is not the only consistent aspect in the tales as the house passes through families and generations. A ghostly white blackbird is often seen and there are themes of love and loss. Sadly many of the characters become orphans or lose their children. They are all beautiful and moving tales. One that really stayed with me was of a woman who loses her parents and home in a fire. She takes to living on the beach until some of the local women interfere and place her with the crippled blacksmith to keep his house. As time goes by she learns to trust and opens her heart again. She is gifted with a peach tree which is another constant in the tales that follow. Very highly recommended to anyone who likes great prose with a fairy tale lilt to it.