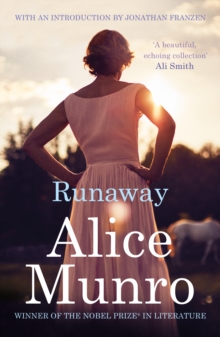 Description
**Winner of the Nobel Prize in Literature**The matchless Munro makes art out of everyday lives in this exquisite collection.
Here are men and women of wildly different times and circumstances, their lives made vividly palpable by the nuance and empathy of Munro's writing.
Runaway is about the power and betrayals of love, about lost children, lost chances.
There is pain and desolation beneath the surface, like a needle in the heart, which makes these stories more powerful and compelling than anything she has written before. Winner of the Man Booker International Prize 2009.
Information
Format: Paperback
Pages: 368 pages
Publisher: Vintage Publishing
Publication Date: 12/11/2005
Category: Short stories
ISBN: 9780099472254
Free Home Delivery
on all orders
Pick up orders
from local bookshops
Reviews
Showing 1 - 5 of 5 reviews.
Review by londonlady
16/06/2015
A beautiful collection of short stories from Canadian author Alice Munro. Weaving through the stories of men and women are feelings of isolation, loss, love and change. Munro's stories are simple, powerful and very readable.
Review by CarltonC
16/06/2015
Breathtakingly concise slices of life, with so much emotion pared down into such beautiful prose. Wonderful!I will be reading more.There are connected stories about Juliet, stories connected over a lifetime, and I found the final story in the sequence (Silence) very moving. The individual stories are equally good, spare language but full of life.
Review by flydodofly
16/06/2015
I have always disliked short stories, because they are just that - short. most short story writers tend to write them bearing that fact in mind all the time: must pull myself together and be brief, it is a short story I am writing after all. well, munro is so good, she does not let you believe for a second that she is writing a short story. she leaves plenty of space between the lines and she is no rush at all - she has got all the time in the world or the whole world in there, whichever way you like. what can I say, she fooled me, and I loved it.
Review by DubaiReader
16/06/2015
Frustrating.Alice Munro is widely recognised for her short storiy writing, but although these were obviously well written, I felt they lacked in satisfaction. This genre doesn't provide for as much character detail and so I tend to expect some sort of reward at the end of any given story. Many of these failed to provide that, leaving me wondering why I'd read them at all.There is a theme running through, not just of people running away from something, but also of the effects of various changes on the course of the characters' lives - a kind of a 'what if' element.No one seems to be particularly happy, this is not an uplifting collection.My favourites from the collection were the triplet of linked stories, Chance, Soon and Silence, here we were able to get into a bit more depth, though, again, the ending was frustrating.But in terms of a complete and rounded story my vote would go to Passion because I felt that this one actually had an ending.My first attempt to read Ms Munro resulted in my abandoning the book (The Love of a Good Woman), so this was an improvement, but I think I will give away my copy of 'Selected Stories', this author is not for me.
Review by Helenliz
16/06/2015
This is a series of short stories, with female lead characters. IN most cases they have something to escape from, or to hide in the past - be that a distant or more immediate past. No real theme to the book, apart from they're all about varous shades of the human condition. Several were told from the persepctive of an older woman, reviewing events at an earlier stage of her life. In all of them was a sense of something hidden. They were all very human and believable, with the faults and mistakes. My first reading of the recent Nobel laureate, and there is something that draws you in.