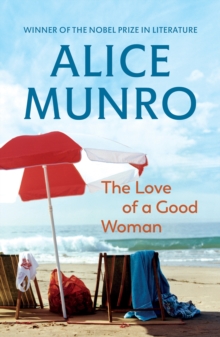 The Love of a Good Woman
Paperback
Description
**Winner of the Nobel Prize in Literature**Alice Munro has a genius for entering the lives of ordinary people and capturing the passions and contradictions that lie just below the surface.
In this brilliant new collection she takes mainly the lives of women - unruly, ungovernable, unpredictable, unexpected, funny, sexy and completely recognisable - and brings their hidden desires bubbling to the surface.
The love of a good woman is not as pure and virtuous as it seems: as in her title story it can be needy and murderous.
Here are women behaving badly, leaving husbands and children, running off with unstuitable lovers, pushing everyday life to the limits, and if they don't behave badly, they think surprising and disturbing thoughts.
Information
Format: Paperback
Pages: 352 pages
Publisher: Vintage Publishing
Publication Date: 02/03/2000
ISBN: 9780099287865
Free Home Delivery
on all orders
Pick up orders
from local bookshops
Reviews
Showing 1 - 2 of 2 reviews.
Review by bluepigeon
16/06/2015
Continuing on my short story streak, I picked up Munro after much praise from fellow readers. Certainly, Munro does the short story well, finding ways – fine and subtle ways – to develop her characters. This collection is indeed about the ordinary person, the ordinary Canadian, perhaps, but it is a very diverse set of stories and voices. The most memorable stories for me were Enid's story (second part of Love of a Good Woman) and Before Change. <br/><br/>The stories describe the mundane, the every day, the usual progression of lives. It's like a short bike ride on an unremarkable day. And then the bike tire brushes a rock, the rider loses control, perhaps for a second or enough to tumble down by the side of the road, or worse, into coming traffic, but no, nothing is really that drastic. Just temporarily alarming and maybe life-changing.<br/><br/>Recommended for those who like to read about small town mysteries, neighborly gossip, secretive doctors, and failed marriages.
Review by cattylj
16/06/2015
I stutter-started this collection but I knew I would like it so I had to set it aside until I was ready. That happened to be yesterday and I'm very glad I gave it another go. I don't know what I can say about Munro's writing that hasn't already been said. It's eloquent, deliberate, and intimate. Each story is engrossing in its own right. Even the one or two I didn't particularly care for at the start had me hanging on every word by the end. Her characters are real. Their situations are painfully, heart-achingly real. She renders them with such delicacy and a total lack of preaching. There are some short stories I read and forget within a month. There are some I read and know immediately that I'll remember and return to them for years to come. These belong in the latter group. I'm eager to get my hands on more from Munro.