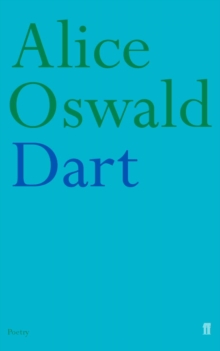 Description
Over the past three years Alice Oswald has been recording conversations with people who live and work on the River Dart in Devon.
Using these records and voices as a sort of poetic census, she creates a narrative of the river, tracking its life from source to sea.
The voices are wonderfully varied and idiomatic - they include a poacher, a ferryman, a sewage worker and milk worker, a forester, swimmers and canoeists - and are interlinked with historic and mythic voices: drowned voices, dreaming voices and marginal notes which act as markers along the way.
Information
Format: Paperback
Pages: 64 pages
Publisher: Faber & Faber
Publication Date: 08/07/2002
Category: Poetry by individual poets
ISBN: 9780571214105
Other Formats
Hardback from £8.19
CD-ROM from £9.95
EPUB from £7.98
Free Home Delivery
on all orders
Pick up orders
from local bookshops
Reviews
Showing 1 - 1 of 1 reviews.
Review by wandering_star
16/06/2015
Dart is about the river of that name, in Devon, and Oswald apparently interviewed a large number of people who work or play on the river. Their voices appear in the poem, interleaved with imaginary voices, such as here where a waternymph and a woodsman share the page:<i>when the lithe water turnsand its tongue flatters the fernsdo you speak this kind of sound:whirlpool whisking round? Listen, I can clap and slidemy hollow hands along my side.imagine the bare feel of water,woodman, to the wrinkled timberWhen nesting starts I move out. Leaving the thickety places for the birds. Redstart, Pied Flycatchers. Or if I'm thinning, say every twelve trees I'll orange-tape what I want to keep. I'll find a fine one, a maiden oak, well-formed with a good crop of acorns and knock down the trees around it. And that tree'll stand getting slowly thicker and taller, taking care of its surroundings, full of birds and moss and cavities where bats'll roost and fly out when you work into dusk</i>My favourite parts were those where Oswald took the words of the real people and inflected them with poetry. There is such a range of people, from boatbuilders and fishers to the less glamorous (sewage worker), and yet you can always hear the real voices in the lines that she has picked out. I felt I got a real sense of the living river, the potential beauty of everyday language, and the way that everyone has great insights if you can get them on the right subject.So here are a few more:Stonewaller - <i>You get upriver stones and downriver stones. Beyond Totnes bridge and above Longmarsh the stones are horrible grey chunks, a waste of haulage, but in the estuary they're slatey flat stones, much darker, maybe it's to do with the river's changes. Every beach has its own species, I can read them, volcanic, sedimentary, red sandstone, they all nest in the Dart, but it's the rock that settles in layers and then flakes and cracks that gives me my flat walling stone.</i>Boatbuilder -<i>now if this was a wooden boat you'd have to steam the planks, they used to peg them on the tide line to get salt into the timber, you can still see grown oak boats, where you cut the bilge beams straight out of the trees, keeping the line sweet, fairing it by eye, its a different mindset - when I was a boy all boats leaked like a basket, if you were sailing you were bailing</i>Poacher - the most Dylan Thomasy of all - <i>Back in the days when I was handsome and the river was just river - not all these buoys everywhere that trip your net so that you've got to cut the headrope and the mesh goes fshoo like a zip. Terrifying.And there was so many salmon you could sit up to your knees in dead fish keeping your legs warm.I used to hear the tramp tramp tramp under my window of men going down to the boats at three in the morning.</i>