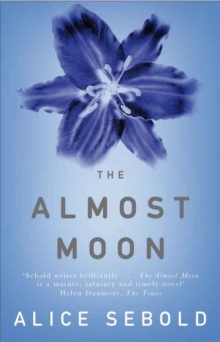 The Almost Moon
Paperback
Description
Helen Knightly has spent a lifetime trying to win the love of a mother who had none to spare. And as this electrifying novel opens, she steps over a boundary she never dreamt she would even approach.
But while her act is almost unconscious, it also seems like the fulfilment of a lifetime's buried desire.
Over the next twenty-four hours, her life rushes in at her as she confronts the choices that have brought her to this crossroads. 'Sebold writes brilliantly ...The Almost Moon is a mature, salutary and timely novel' Helen Dunmore, The Times 'Exhilarating, unforgettable ...This is a remarkable novel in which every word is vital, each nuance felt ...Candid, gut-wrenching, at times horribly funny and often beautifully touching ...The genius which guides The Almost Moon is its absolute, horrible, multiple truths; its staggering clarity' Irish Times 'As moving as it is unquestionably gripping' Observer
Information
Format: Paperback
Pages: 304 pages
Publisher: Pan Macmillan
Publication Date: 03/10/2008
ISBN: 9780330451352
Free Home Delivery
on all orders
Pick up orders
from local bookshops
Reviews
Showing 1 - 5 of 6 reviews.
Previous | Next
Review by bookworm_17
16/06/2015
I was really disappointed with this book and struggled to read it to the end. Although it is based around the difficult issue of mental illness, I don't think the author deals with it very well. The main character is not likeable and the ending was extremely poor.
Review by michaeldwebb
16/06/2015
It's probably not fair to call this a review - I gave up after about 30 pages - something I almost never do. It was just too unpleasant though. I just don't need to read about a dead old lady's excrement. I read through the other reviews, and it looks like it wasn't going to get any better. Like other reviewers, I really love the Lovely Bones, but I doubt very much I'll give Selbold another go - life's too short.
Review by JillMcCaghern
16/06/2015
Not nearly as good as The Lovely Bones and was a little unbelieveable. Helen kills her mother who has dementia and the book covers the next 24 hours till the body is discovered.
Review by chocolattepi
16/06/2015
Alice Sebold again astonishes me with her amazing talent. She is truly a master of her craft, and is probably one of my all-time favorite authors for that reason. She manages to create a (disturbingly) realistic story about an uncomfortable topic: Dementia. And of course, the worst-case-scenario when it comes to dealing with it. I ate through this book over the course of a day, because I just couldn't put it down. I found that it was deliciously dark, and heavily disturbing at times. There were points where I had to put the book down because I felt queasy. This didn't deter me, though, and I'm very glad that I finished it. I loved that it all took place over 24 hours - it gave just enough time for events to unfold, and for the main character to come to grips with herself. And it had a very realistic ending. Another masterpiece from Alice Sebold.
Review by pamjw
16/06/2015
The book opens with Helen recounting that she has killed her mother.We are given an account of how that happened followed by the events of the next 24 hours intertwined with flashbacks through their life.This is a very confusingly written book, with an ending that isn't an ending at all.Very disappointing. The Lovely Bones it is not.