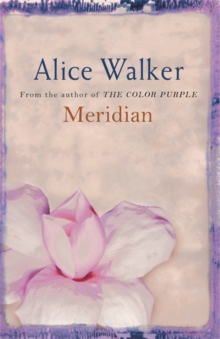 Description
The second novel written by Alice Walker, preceding THE COLOUR PURPLE is a heartfelt and moving story about one woman's personal revolution as she joins the Civil Rights Movement.
Set in the American South in the 1960s it follows Meridian Hill, a courageous young woman who dedicates herself heart and soul to her civil rights work, touching the lives of those around her even as her own health begins to deteriorate.
Hers is a lonely battle, but it is one she will not abandon, whatever the costs.
This is classic Alice Walker, beautifully written, intense and passionate.
Information
Format: Paperback
Pages: 256 pages
Publisher: Orion Publishing Co
Publication Date: 01/09/2004
ISBN: 9780753819494
Other Formats
Paperback from £6.79
EPUB from £5.99
Free Home Delivery
on all orders
Pick up orders
from local bookshops
Reviews
Showing 1 - 1 of 1 reviews.
Review by PinkPandaParade
16/06/2015
Meridian Hill is a silent, eccentric, and determined woman who has held onto her strength and dignity despite the many hardships she has faced throughout her life. The events leading up to the opening chapters are dispersed throughout the novel in scattered, yet plausible flashbacks. Meridian's life is filled with many unique people and events that shape her into a seemingly worry free woman, the outcome being the opposite of what would normally be expected with her experiences.The one thing that impassioned Meridian in her childhood was the mysticism of her Indian ancestry, a haunting love and power shared by both her father and her deceased grandmother, Feather Mae. The mysteries of her ancestry are furthered by her unforgettable ethereal experiences while in the coils of the Sacred Serpent, that incredible land phenomenon built thousands of years by Native Americans. Used as a Cherokee burial ground, an interesting family conflict in the novel rests on this hallowed land.Alice Walker takes us through this book with an effective, poetic, and sweeping type of prose. The book spans Meridian's amazing life, from her time with her mother, Mrs. Hill, her time as a teenager with an ignorance about sex (attributed mostly to Mrs. Hill), and her life as a stoic, nearly certifiable single parent. One of the interesting periods of Meridian's life takes place in Saxon College in Atlanta. This time of her life is especially turbulent, and filled with unique characters like Anne-Marion, the Sojourner, and the Wild Child, people that will live forever in Meridian's memory as those who were able to teach her things that Saxon's beloved professors did not. These tumultuous years were preceded by an awareness of the Civil Rights movement. A bombing of a neighboring house brought Meridian to the door of a voting coalition office where she met Truman, a man with whom she has an on-and-off affair. Thought-provoking presentations of race and love are presented in this and other parts of this multi-faceted novel, with that unique tinge of magic that Walker brings to all her works.Meridian moves from place to place in this novel, sprinkling little pieces of resolve into the minds of all the townspeople who were fortunate enough to be in her presence. Walker's rich protagonist presents many important issues in a subtle way, touching upon racism and prejudice, religion, and the right to human life. Meridian's endearing qualities will easily find a place in the hearts of Ms. Walker's readers.