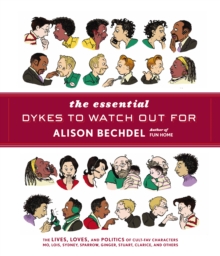 The Essential Dykes To Watch Out For
Paperback
Description
On publication in 2006, Alison Bechdel's Fun Home was hailed as one of the masterpieces of the graphic form.
Time magazine chose it as the best book of that year and critics on both sides of the Atlantic praised it for its emotional complexity and the seriousness of its writing.
Nick Hornby called it 'as satisfying a literary experience as you are likely to have this year'. Long before Fun Home, however, Alison Bechdel had been chronicling the lives of a small universe of cartoon characters in her strip Dykes To Watch Out For, which is syndicated in fifty alternative newspapers in the USA and has been published in eleven volumes.
Now, at last, The Essential Dykes To Watch Out For gathers the best of those volumes, together with sixty of the newest strips. Bechdel's brilliantly imagined counter-cultural band of friends - academics, social workers, booksellers - fall in and out of love, negotiate relationships, raise children, switch careers and cope wtih aging parents.
The Essential Dykes To Watch Out For fuses high and low culture - from foreign domestic policy to domestic routine, postmodern theory to hot sex - in a serial graphic narrative 'suitable for all humanist persuasions'.
Information
Format: Paperback
Pages: 416 pages, Throughout
Publisher: Random House Children's Publishers UK
Publication Date: 01/12/2008
Category: Biography: general
ISBN: 9780224087063
Free Home Delivery
on all orders
Pick up orders
from local bookshops
Reviews
Showing 1 - 4 of 4 reviews.
Review by lorax
16/06/2015
This is a nearly-complete, but not entirely complete, compendium of the wonderful DTWOF strips. The omission of a few strips is less of a loss than that of the "bonus stories" that came at the end of each of the original collections. If you can find copies of the original books, I'd recommend buying them as well, or instead; some of the best parts of the story are in those additions, which aren't tied to the strip format.
Review by timjones
16/06/2015
This is a generous selection, but not a complete edition, of Alison Bechdel's "Dykes to Watch Out For" comic strip. It follows the lives of a core cast of characters living in a midwestern US city - mostly, but not all, lesbians; mostly, but not all, women - from 1987 to 2008. Along the way, they age, fall in and out of love, have sex, have affairs, raise children, marry, divorce, move house, protest, kvetch, argue, discuss, discourse, and do silly things - all against the backdrop of US and world politics during that time.I have always liked novels of character that weave in the social and political environment within which the characters interact, and, taken as a whole, "Essential Dykes to Watch Out For" is a graphic novel of character. Plus, it's well-drawn (especially after the first few years), funny, pointed, and poignant. The humour curdles in the strips drawn during 2000-2008 - neither the characters nor their author have much love for the Bush administration. This collection ends shortly before the 2008 US election. The strip is on hiatus at the moment, but if Alison Bechdel starts it up again, it will be interesting to see whether the tone lightens again.
Review by charbutton
16/06/2015
The characters in a comic strip she has written for more than 20 years, Alison Bechdel's Dykes to Watch Out For are complicated women. They are political, gay, loving, selfish, funny, hurtful, seriously intelligent, sexual, sexy, annoying, bi, good parents, not so good parents, drag kings and above all friends.Bechdel's portrayal of the east coast, left-wing, lentil eating lesbian community is always funny and often sad as the main characters grow from their politically feisty young selves into adulthood and the opportunities and responsibilities that presents.I can't believe how much I grew to love these women (and their associated men friends, children, and parents), considering they actually say and think in much fewer words than characters in a novel. Having finished this book this afternoon I feel a bit bereft.
Review by wyvernfriend
16/06/2015
Interesting selection of strips from Dykes to Watch out for, following romance and fallout within a small group of friends who happen to be lesbian, well mostly.Enjoyable and thought provoking.