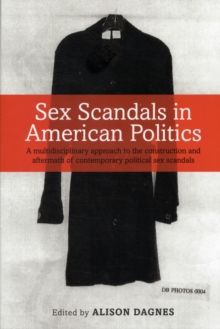 Sex Scandals in American Politics : A Multidisciplinary Approach to the Construction and Aftermath of Contemporary Political Sex Scandals
Paperback / softback
Description
This is a collection of essays that examine the construction, disgrace, and consequences of political sex scandals from various academic disciplines.
From the misbehavior of President Clinton to Governor Mark Sanford's Argentinean tryst, sex scandals have become a prominent feature of American public life.
This unique collection of essays explains why politicians elected for their leadership and promises of ethical behavior risk their career, and the socio-political consequences of their actions.
It argues that political sex scandals are distinct from other types of sex scandals because the nature of elected office is very different from "civilian" life.
The construction, disgrace, and aftermath of political sex scandals are examined from different academic angles, including the politics of place, human communication, political psychology, media, sociology, feminism, and criminology. The essays delve into the role of culture and geography on the political outcome of a scandal, the rhetoric of apologia, the psychology of risk, trends and patterns in media coverage, the impact on different organized interests, legal ramifications, and how different countries view political sex scandal.
This accessible work will engage anyone studying American politics, political behavior, political communication as well as sociological issues and the role of the media.
Information
Format: Paperback / softback
Pages: 200 pages
Publisher: Continuum Publishing Corporation
Publication Date: 17/11/2011
Category: Media studies
ISBN: 9781441186904