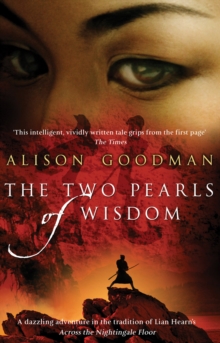 The Two Pearls of Wisdom
Paperback
Description
Under the harsh regime of an ambitious master, candidate Eon is training to become a Dragoneye - a powerful Lord able to master wind and water to protect the land.
But Eon also harbours a desperate secret... Eon is, in fact, Eona, a young woman who has endured years of disguise as a boy for the chance to practice the Dragoneye's Art.
In a world where women are only hidden wives or servants, Eona's dangerous deception is punishable by death.
Still in disguise, Eona's unprecedented talent thrusts her into the centre of a lethal struggle for the Imperial throne.
Summoned by the Emperor to the opulent and treacherous Court, Eona must learn to trust her power and find the strength to face a vicious enemy who would seize her magic . . . and her life. Inspired by ancient Chinese lore and sharing the wonders of films such as Crouching Tiger, Hidden Dragon, this thrilling novel is set in a brilliantly envisioned world where both appearances and loyalties can prove so very deceptive...
Information
Format: Paperback
Pages: 512 pages, Maps
Publisher: Transworld Publishers Ltd
Publication Date: 07/05/2009
Category: Fantasy
ISBN: 9780553819885
Free Home Delivery
on all orders
Pick up orders
from local bookshops
Reviews
Showing 1 - 1 of 1 reviews.
Review by Shirezu
16/06/2015
I know it's bad to go into a book expecting it to be bad as you drag that feeling into it but I couldn't help it and I believe my preconceptions were right.<br/><br/>The lead character in this book really annoyed me. I can understand wanting her to be someone who has faced big disadvantages to show how they can "rise above it" but really this character acts as if every day is her first day dealing with it. Every time something gets a bit difficult she just falls apart. She just seemed so pathetic there were numerous times I wanted to stop reading. I persevered in the hope that it got better and because it was a short book. <br/><br/>As for the writing itself it was nothing great with a few plot holes. Her "Master" broke her hip? Now he's dead will that ever be explained? How about the fact that one of the early antagonists, Ranne, was brutally murdered and dumped in front of the villains' library but was never mentioned again apart from some memories of remorse?<br/><br/>I feel that there could have been a lot more to this book. The political intrigue is barely there at all and that was one of the points that the enthusiasts were pushing to get us to read this book. I was hoping to see more of the subtle machniations of the Council but they were only a bit part then wiped out. The same goes for the Emperor's court. <br/><br/>From all this I am not going to read the sequel as I frankly couldn't care what happens to Eon/a.