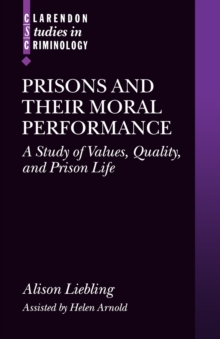 Prisons and their Moral Performance : A Study of Values, Quality, and Prison Life
Paperback / softback
Description
This book constitutes a critical case study of the modern search for public sector reform.
It includes a detailed account of a study aimed at developing a meaningful way of evaluating difficult-to-measure moral dimensions of the quality of prisons.
Penal practices, values, and sensibilities have undergone important transformations over the period 1990-2003.
Part of this transformation included a serious flirtation with a liberal penal project that went wrong.
A significant contributory factor in this unfortunate turn of events was a lack of clarity, by those working in and managing prisons, about important terms such as 'justice', 'liberal', and 'care', and how they might apply to daily penal life.
Official measures of the prison serviceseem to lack relevance to many who live and work in prison and to their critics.
The author proposes that a truer test of the quality of prison life is what staff and prisoners have to say about those aspects of prison life that 'matter most': relationships, fairness, order, and the quality of theirtreatment by those above them.
The book attempts a detailed analysis and measurement of these dimensions in five prisons.
It finds significant differences between establishments in these areas of prison life, and some departures from the official vision of the prison supported by the performance framework.
The information revolution has generated unprecedented levels of knowledge about individual prisons, as well as providing a management reach into establishments from a distance, and a capacity for 'chronic revision', that was unimaginable fifty years ago.
Another major transformation - the modernisation project - brought with it a new, but flawed, 'craft' of performance monitoring and measurement aimed at solving some of the problems of prison management.
This book explores the arrival and theimpact of this concept of performance and the links apparently forged between managerialism and moral values.
Information
Format: Paperback / softback
Pages: 592 pages, numerous tables and line drawings
Publisher: Oxford University Press
Publication Date: 28/07/2005
Category: Ethics & moral philosophy
ISBN: 9780199291489
Free Home Delivery
on all orders
Pick up orders
from local bookshops
Also in the Clarendon Studies in Criminology series | View all