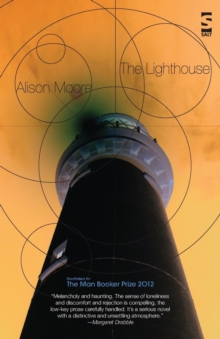 Description
Winner of the 2013 McKitterick PrizeShortlisted for the 2013 East Midlands Book AwardShortlisted for the Man Booker Prize 2012Shortlisted for New Writer of the Year in the 2012 Specsavers National Book AwardsObserver Book of the Year 2012The Lighthouse begins on a North Sea ferry, on whose blustery outer deck stands Futh, a middle-aged, recently separated man heading to Germany for a restorative walking holiday.Spending his first night in Hellhaus at a small, family-run hotel, he finds the landlady hospitable but is troubled by an encounter with an inexplicably hostile barman.In the morning, Futh puts the episode behind him and sets out on his week-long circular walk along the Rhine.
As he travels, he contemplates his childhood; a complicated friendship with the son of a lonely neighbour; his parents' broken marriage and his own.
But the story he keeps coming back to, the person and the event affecting all others, is his mother and her abandonment of him as a boy, which left him with a void to fill, a substitute to find.He recalls his first trip to Germany with his newly single father.
He is mindful of something he neglected to do there, an omission which threatens to have devastating repercussions for him this time around.At the end of the week, Futh, sunburnt and blistered, comes to the end of his circular walk, returning to what he sees as the sanctuary of the Hellhaus hotel, unaware of the events which have been unfolding there in his absence.
Information
Format: Paperback
Pages: 192 pages, No
Publisher: Salt Publishing
Publication Date: 15/08/2012
ISBN: 9781907773174
Free Home Delivery
on all orders
Pick up orders
from local bookshops
Reviews
Showing 1 - 5 of 17 reviews.
Previous | Next
Review by vancouverdeb
16/06/2015
The long- listed Booker novel The Lighthouse begins with this epigraph:she became a tall lighthouse sending out kindly beams which some took for a welcome instead of warnings against the rocks - Muriel Spark , " The Curtain Blown by the Breeze"And so begins a fascinating and somewhat challenging read, full of symbolism and ambiguity.At first glance it appears to be a tale of the mundane details of the middle- aged , recently separated man named " Futh". We never learn if " Futh " is his first or last name, he is simply" Futh" and an easily forgettable man. Futh appears to be somewhat slow witted, having not learned to drive until he was middle aged, and someone who has great difficulty with a map and organizing his life. He is also socially awkward, having no one to serve as his best man at his own wedding except for his father.The lighthouse exists for Futh's father as physical, technological interest; whereas for Futh, the lighthouse is a perfume container that many years ago belonged to Futh's mother. Futh's mother left her husband and Futh when Futh was but a 10 year old because she was " bored". He carries the silver lighthouse with him at all times, mainly a memory of his mother, but also somewhat of a talisman.At beginning of the story, Futh is traveling to Germany to re- walk a holiday that he took with his father shortly after his mother left. During his "circular" walk he hopes to close some old wounds and try to come to terms with his life as a child , and his recent separation from his wife. Futh stays at inn named " Hellhaus" , which in English, " translates to" bright house" or " light house", but one can easily understand its other meaning. Hellhaus is owned and run by a rather dysfunctional couple, Bernard and Ester.Fragrances and smells play an important role in the story. In fact, years ago Futh worked in the manufacturing of artificial odors. Futh takes in much of the world through this sense. The first fellow that he meets in the story causes Futh to note " the smell of the mans supper coming through his mouth." The smell of violets, cigarette smoke and less understandably , oranges, evoke memories and thoughts of the women in Futh's life, most especially that of his mother. Camphor is a smell most often associated with men.Parallel to Futh's circular walk runs a story about the wife who helps run the Hellhaus Inn . I found it intriguing that her name was "Ester" rather than the more familiar spelling, "Esther." Like all of the men and woman in the story , she is emotionally damaged. Both she and a older female neighbour of Futh's keep Venus Fly trap plants - female plants which eat moths and flies.This novella of about 180 pages is spare and elegic , but full of ambiguity and symbolism. The denouement was sudden, startling and ambiguous, so much so that I immediately re- read the book and came away with both more understanding and more questions. A brilliantly written book , one which I feel certain will make it to the Booker Short List.4. 5 stars.
Review by ctpress
16/06/2015
Futh is a strange character, self-effacing, a social misfit - recently separated from his wife - we follow him on a week long hiking trip in Germany, where the main plot really seem to be his constant memories of his unpleasant father, the mother that vanished when he was a kid, the unsuccesful marriage, his ungrateful best friend. We also read the story of a woman, Ester, who runs a hotel together with her husband. She's also lonesome and on a destructive path that leads away from her unpleasant husband. Futh stay at this hotel in the beginning of the trip and plan to return there.It's difficult really to describe what makes this story so haunting. It reminded me in a way of Camus The Stranger - also about a character that as Futh has a strange way of behavior towards people and events. Futh is unable to make sense of the world around him, only living in memories, not taking an active part in life, not feeling remorse or anger when treated badly for instance. In a way Futh is so insubstantial, so superfluous, it's painful to read about his many humiliations in life - even his name seems to vaporize when you pronounce it. He is a victim and yet also his own worst enemy. Alison Moore's writing is like Camus' very sparse, economical, chilly, haunting - so many incidents and descriptions filled with layers of meaning.I'm not so sure about the ending though - I can't elaborate much on it here - in a way it has a certain inevitable logic about it I guess.
Review by bcquinnsmom
16/06/2015
Now here's a book I really, really like; I'm not even going to wait until the end of my discussion on this novel to say that I HIGHLY recommend it -- it is so quiet and understated yet delivers a huge wallop that I hope lands it a place on the shortlist. Of course, tomorrow will bring the news of which books go through and which don't, but if you're planning to read only the shortlist and this one doesn't make it, I'd advise getting a copy anyway. It is that good.A ferry crossing the North Sea is the setting for the opening scene of this novel. Futh (no first name ever given) is on his way to Germany for a summer holiday, preferring to stand outside on deck in the rough weather. Back in England, he works for a company that manufactures synthetic smells; he and his wife Angela have also recently separated. After his vacation he will have only an empty apartment to return to, filled with a few boxes of his things and some furniture, but not much else. In a small hotel in Hellhaus (which translates as "bright house," or "light house"), near Koblenz, the proprietor's wife Ester is having her first drink of the day, the one she likes just after finishing cleaning the downstairs rooms. The hotel is empty, except for one customer there for breakfast; she leads him upstairs to one of the uncleaned rooms. Afterwards, she goes back to the cleaning cart in the hall as her husband Bernard comes looking for her to return the gloves she'd left at the bar -- he watches her for a while before he goes back downstairs. She's expecting a honeymooning couple and Futh that day; when he arrives, later than expected, he heads for his room and a shower while Ester brings his dinner upstairs. In combing through his suitcase she finds little to get excited over until she comes to a silver lighthouse, "about ten centimetres tall and three or four in diameter," with a "four-sided tower and a lantern room with tiny storm panes and a domed top. In relief on one side it says "DRALLE," the name of an old Hamburg perfumery." As the noise of the shower ends, Ester tosses the lighthouse back onto Futh's clothes and starts to leave, changing her mind midstream, turning back toward it. Futh, however, is moving toward the bathroom door, and she leaves. She is noticed by the ever-present Bernard, and later, "In the night, there will be a storm. it will be brief, if a little violent, and hardly anyone will even realise it has occurred, although they might hear it raging, thundering in their dreams." In the morning, hoping for breakfast, Futh runs into Bernard, who tells him he should leave. Thus begins Futh's first full day of his walking vacation, a time filled with thoughts about Angela -- how they met, got together, married and failed; as well as his life growing up alone with his father. But time and again his thoughts give way to the mother who abandoned him when he was a very young boy, after the family had returned from a vacation in Cornwall. The lighthouse perfume case Futh carries in his pocket was his mother's, originally filled with lilac scent. The Lighthouse has a very symmetrical structure and there is also a matching and beautiful balance of symbolism moving back and forth between the stories of Ester and Futh up through his last vacation day, when his trip will circle him back to Hellhaus before he is to reboard the ferry to take him home. Scents abound in olefactory reminders of the past; the lighthouse is a constant factor throughout the story, sadly not so much of a symbol of safety but of wreckage. The book is filled with haunting notes of loneliness, darkness and isolation; it's not a happy story at all. Futh is a tragic figure -- naive, childish, awkward -- almost as if his life stopped the day his mother left.I can't begin to say what an incredible book this is; I loved it so much I bought extra copies to share with friends and I'm adding it to the book group's reading list this year. I got so lost in this book that any interruption was unwelcome; I read it in one sitting and sat thinking about it for hours afterwards. From the casual reader perspective, in contrast to some novels I've recently read, The Lighthouse is understated but powerful, making the point that an author doesn't need to engage in being oh so clever to write a wonderful book. The symbolism abounds in this novel but not in a boggy way so as to frustrate the reader. The only negative thing I have to say about this novel is that its ending comes so quickly; at the same time it is not at all unexpected. If you aren't into haunting or tragic then this probably isn't the book for you, but I LOVED this novel -- I hope it does well in terms of sales even if it doesn't make to this year's Booker Prize shortlist.
Review by gwendolyndawson
16/06/2015
Futh, a middle-aged man facing a divorce, takes a week-long holiday in Germany. His plan is to hike from hotel to hotel along a circular path until he reaches his starting point again—his first night's hotel (Hellhaus) is also where he stays on his last night. As Futh hikes, he recalls dramatic moments in his life, including his own parents' separation and the early days of his relationship with his wife. Running parallel to Futh's story is the story of the proprietress of Hellhaus. The stories unfold separately but come together at the end of the novel in a devastating and surprising conclusion.I loved the unique structure of this book. Not only is Futh's walk circular, but his memories run in circles too, overlaying each other and repeating with different details revealed each time. If this book were a body of water, it would be a swiftly moving stream filled with eddies, undercurrents, and backwashes. I felt true sympathy for Futh and his dissolving marriage, though I was often frustrated by his passivity, which ultimately gets him into trouble near the end of the novel. With some characters, the multiple coincidences that lined up to lead to the ending would have felt contrived. But with Futh, it seemed inevitable that he would get into a bad place, so the ending seemed true to me. Overall, this is a beautifully written and masterfully structured novel that deserves its place on the Booker Prize Short List
Review by Mercury57
16/06/2015
Alison Moore's debut novel The Lighthouse is a quietly deceptive tale; one of those books that so gently wraps itself around you that you just have to keep reading even when you're not really sure where it's going.This is not a novel that bursts forth with a big bang opening or one that contains any significant dramatic events. Instead we follow the slow trail of a middle-aged man bearing the oddly-sounding name of Futh, as he takes a solo walking holiday in the Rhineland. Futh's idea of a good holiday is rather simple; he isn't looking for adventure but rather a 'week of good sausages and deep sleep' that will help him recover from the recent break up of his marriage. We soon discover that his marital separation isn't anywhere as traumatic an experience as his mother's decision to abandon him as a child.Futh is a lonely and rather hapless soul. A man who seems only half complete. He has no true friends; his father mocks his work as chemist who creates fake scents for polishes and air fresheners and his marriage is little more than a relationship of convenience. As he tramps the paths along the Rhine each day with blistered feet and sunburnt head he recalls episodes and fragments from his life.Futh clings to his past life with the aid of a small lighthouse-shaped perfume bottle that once belonged to his mother. He carries it with him everywhere, a talisman whose violet scent always reminds him of his mother and the last day they enjoyed together before she abandoned him.This small object, one of many motifs within the novel, takes on additional significance in the second strand of the book in which we meet the owners of a small hotel/bar called Hellhaus (German for 'lighthouse') where Futh begins and is due to end his holiday. Esther has a habit of enticing some of her male guests to sleep with her as a way of getting her taciturn husband Bernard to show an interest in her again. He does with the aid of dark threats and a heavy fist. Poor Futh gets caught up in their tangled lives on his first night on holiday when he attracts Bernard's mistaken suspicions of an assignation with Esther. Futh leaves the establishment on the first morning blissfully unaware of the smouldering fuse he is leaving behind in this hotel and to which he will return. Although this is not a suspense novel in the traditional sense, Moore's narrative gradually notches up the tension with each step that takes Futh back to the hotel.The Lighthouse explores the consequences of a traumatic incident in childhood; the way the past impacts the adult self. Futh evokes our sympathy for the hopelessness and emptiness of his life and his obsession with the past, with its old wounds and childhood hurts that will always keep dragging him back and prevent him achieving from achieving happiness.