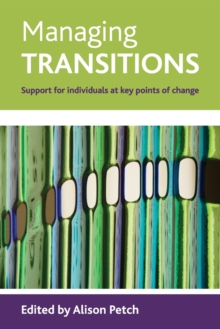 Managing transitions : Support for individuals at key points of change
Paperback / softback
Description
Everyone will experience a number of transitions throughout their life.
Many of these will be positive, others may present challenges.
This book addresses significant transitions relevant to policy and practice, covering key transition points in social care from childhood to old age. Drawing on the best available research evidence, 'Managing transitions' highlights issues common to all experiencing transition as well as the dilemmas specific to particular situations.
Individual chapters explore what we know about how transition is experienced by young people leaving care and by those with learning disabilities and mental health problems.
For young people seeking asylum there are multiple transitions, of age, of country and of culture.
Further contributions address the current transformation from service provision to self directed support, the major transition for older people who move to supported living, and the enduring challenges that surround the transition from hospital to community.
The practice orientation of this volume is reinforced by the inclusion of evidence-based practice guidance for each of the areas addressed and a strong emphasis throughout on the implications for practice development.
It will be of interest to practitioners, policy makers and researchers looking at generic transition challenges and solutions, as well as researchers, academics and students of health and social care and social work.
Information
Format: Paperback / softback
Pages: 176 pages, No
Publisher: Policy Press
Publication Date: 05/10/2009
Category: Social welfare & social services
ISBN: 9781847421791