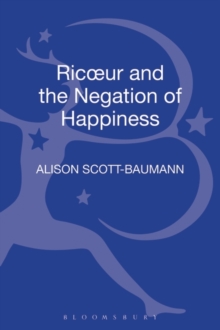 Ricoeur and the Negation of Happiness
Hardback
Description
Ricoeur lectured and wrote for over twenty years on negation ('Do I understand something better if I know what it is not, and what is not-ness?') and never published his extensive writings on this subject.
Ricoeur concluded that there are multiple forms of negation; it can, for example, be the other person (Plato), the not knowable nature of our world (Kant), the included opposite (Hegel), apophatic spirituality (Plotinus on not being able to know God) and existential nothingness (Sartre).
Ricoeur, working on Kant, Hegel and Sartre, decided that all these forms of negation are incompatible and also fatally flawed because they fail to resolve false binaries of negative: positive.
Alison Scott-Baumann demonstrates how Ricoeur subsequently incorporated negation into his linguistic turn, using dialectics, metaphor, narrative, parable and translation in order to show how negation is in us, not outside us: language both creates and clarifies false binaries.
He bestows upon negation a strong and central role in the human condition, and its inevitability is reflected in his writings, if we look carefully.
Ricoeur and the Negation of Happiness draws on Ricoeur's published works, previously unavailable archival material and many other sources. Alison Scott-Baumann argues that thinking positively is necessary but not sufficient for aspiring to happiness - what is also required is affirmation of negative impulses: we know we are split by contradictions and still try to overcome them.
She also demonstrates the urgency of analysing current socio-cultural debates about wellbeing, education and equality, which rest insecurely upon our loose use of the negative as a category mistake.
Free Home Delivery
on all orders
Pick up orders
from local bookshops