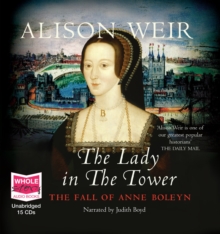 The Lady in the Tower : The Fall of Anne Boleyn
CD-Audio
Description
The imprisonment and execution of Queen Anne Boleyn, Henry VIII's second wife, in 1536 was unprecedented in English history and never before has there been a book devoted entirely to her fall.
But here Alison Weir has reassessed the evidence and created a richly researched and detailed portrait of the last days of one of the most influential and important figures in English history.
This recording is unabridged. Typically abridged audiobooks are not more than 60 per cent of the author's work and as low as 30 per cent with characters and plotlines removed.
Information
Format: CD-Audio
Pages: 15 pages
Publisher: W F Howes Ltd
Publication Date: 01/01/2010
ISBN: 9781407454757
Other Formats
Paperback from £9.15
EPUB from £5.99
Free Home Delivery
on all orders
Pick up orders
from local bookshops
Reviews
Showing 1 - 3 of 3 reviews.
Review by dcoward
16/06/2015
I'm a fan of Alison Weir, but I found this book disappointing. This book primarily focuses on the time period following Anne Boleyn's last miscarriage to the time of her execution. Weir seems to be heavily promoting the point of view that Anne was innocent of the charges against her, and that she was framed by members of the court without King Henry's knowledge of consent. There is nothing wrong with this theory, except that she disparages the works of other authors, and her conclusions seem no more solid than theirs. The truth is that we will never find conclusive answers to all our questions about Anne Boleyn.
Review by stephaniechase
16/06/2015
Weir writes a fascinating look at the short period of time between Anne Boleyn's fall and execution; she is certainly a Boleyn fan, which provides a bias for which she is forthright and unapologetic. I read this shortly after Hilary Mantel's "Wolf Hall," and the two together provided a wonderful reading experience, glimpsing the tug of war between two immensely powerful and determined people (Boleyn and Cromwell).
Review by Cariola
16/06/2015
In <i>The Lady in the Tower</i>, Alison Weir presents an exhaustive study of the downfall of Anne Boleyn, Henry VII's second queen. Unlike many books that begin at the beginning and trace the king's courtship of Anne and her strategies of resistance, this one begins when the marriage is already in trouble: Anne had experienced several miscarriages (at least two of the fetuses were identified as male and the last reported to be severely deformed), and Henry, desirous of a male heir, already had his eye on Jane Seymour. Weir details the last four months of her life, from Henry's growing distance to the last miscarriage, from his efforts to have their marriage annulled to her trial, imprisonment, and execution, and even beyond to the various legends of ghostly apparitions. Although obviously biased in favor of Anne's innocence of the adultery/treason charges, Weir presents strong evidence to back up her opinions. If the book has a dominant flaw, it is its repetitiveness. The author returns to the same points again and again, sometimes with additional evidence (and sometimes not), and the effect is still rather tedious at times. (I actually put the book away for a few weeks, unsure if I would return to finish it.)Overall, I did not learn much about Anne or her last days that wasn't already familiar, but I did learn a bit more about the five men alleged to have been her lovers.