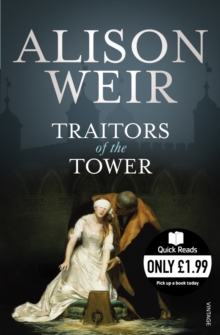 Traitors of the Tower
Paperback
Description
A short, sharp shot of royal revenge. More than four hundred years ago, seven people - five of them women - were beheaded in the Tower of London.
Three had been queens of England. The others were found guilty of treason. Why were such important people put to death?Alison Weir's gripping book tells their stories: from the former friend betrayed by a man set on being king, to the young girl killed after just nine days on the throne.
Alison Weir is a wonderful storyteller. Through her vivid writing, Alison Weir brings history alive.
Information
Format: Paperback
Pages: 96 pages
Publisher: Vintage Publishing
Publication Date: 01/01/2010
Category: British & Irish history
ISBN: 9780099542285
Free Home Delivery
on all orders
Pick up orders
from local bookshops
Reviews
Showing 1 - 5 of 5 reviews.
Review by CasperDenck
16/06/2015
Reading through the reviews on this and other sites one of the persistent complaints seems to be the book is too short and doesn't give enough context to understand the subjects of the accounts. If you're reading the book to gain an understanding of the Tudor Court, whether Anne Boleyn was guilty of adultery, or whether Lady Rochford was the wickedest woman in history then you are not going to find what you are looking for. But such complaints seem to me to be missing the point somewhat. This is an intentionally short book that was written and published as part of the BBC's 'World Book Day' with the specific intent of encouraging new readers to take up the habit of reading. A convoluted historical tome would be antithetical to its purpose. As it happens I think Weir has produced a succinct and well written booklet that seems to achieve its purpose – namely to offer a glimpse of some of the memorable so called traitors that have been executed by the State Tudor history. So yes, those who know the subject in a little more depth can quibble with the book's contents. If I were to do so, I would probably point out that the personal nature of the traitor as an offence against the Monarch rather the State per se could have been brought out more. However, in reality, to do so is to expect the book to be something it was not designed to be. If you do not not read much or do not know that much about the period and do not want to commit to a lengthy book this is a good place to start.
Review by Fliss88
16/06/2015
I like these Quick reads because in an hour or so you've not only read a book, but had you interest sparked for other books on the same or similar subjects. The Tower of London was originally a palace but became a place to be feared and at all costs avoided. There were not many who, once sent to the Tower ever came out of it alive. The times of Henry VIII were times of great betrayal and scheming treachery, a time when you could be considered a loyal and trusted friend one day, but could be beheaded as a traitor the next!
Review by shanaqui
16/06/2015
Still in the mood for reading non-fiction, so I picked this up to test out whether I like Alison Weir's work. She's written a lot of books about this period, which I'm interested in, so... Anyway, it's a very short book, since it was written for the 'quick reads' series. That's really what hampers it: there's not much by way of analysis, just a simplistic recounting of facts, most of which I knew. I think I found the account of Lady Jane Grey most interesting: Alison Weir sees her with sympathy, and told me details I didn't already know about her life and her outlook.<br/><br/>Overall, though, too short and simplistic to be really interesting.
Review by PhilSyphe
16/06/2015
Alison Weir summarises events that led to seven executions that transpired in the Tower of London between 1483-1601. Those unfortunates covered are:1. Lord Hastings2. Queen Anne Boleyn3. Margaret Pole, Countess of Salisbury4. Queen Katherine Howard5. Jane Parker, Lady Rochford6. Lady Jane Grey7. Robert Devereux, Earl of EssexFour of the above were sentences to death by Henry VIII, the king notorious for lopping off heads. Of the seven, Lady Jane Grey, in my view, was the most tragic case, as she was a young woman treated badly from birth by her parents, forced to take the crown of England when she didn't want it, and because of her nine-day stint as queen she spent the rest of her short life in the Tower before her beheading. She in fact welcomed death to escape the misery of he life. Mary I even gave her a lifeline by promising to free her if she converted to Catholicism, but the devout Protestant that Jane was refused her chance of freedom. This is another example of a good heart whose life was wasted and cut short just because of her royal bloodline.With the possible exception of Jane Parker, and maybe Robert Devereux too, I don't believe that any of these people deserved to die for the charges placed upon them.Alison Weir has done a good job here of laying down the essential events in this short work. Again with exceptions of the two aforementioned,she evokes great sympathy for those executed, creating the terrifying atmosphere that preceded the eventual death blow - or blows in the case of poor Margaret Pole.This "quick read" was also a good read for me.
Review by PaulBaldowski
16/06/2015
The book provides a reasonably engaging and informative view of the rise and fall of seven individuals during to rule of the Tudor line in the fifteenth and sixteenth century. In all instances they meet a grisly end on the chopping block, some going more cleanly than others. While a mere 75 pages in length, Traitors probably hits the right mark for non-readers first stab at history.