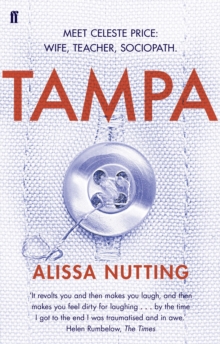 Description
Celeste Price is an eighth-grade English teacher in suburban Tampa.
She is attractive. She drives a red Corvette. Her husband, Ford, is rich, square-jawed and devoted to her.
But Celeste has a secret. She has a singular sexual obsession - fourteen-year-old boys.
It is a craving she pursues with sociopathic meticulousness and forethought.
Within weeks of her first term at a new school, Celeste has lured the charmingly modest Jack Patrick into her web - car rides after dark, rendezvous at Jack's house while his single father works the late shift, and body-slamming encounters in Celeste's empty classroom between periods.
It is bliss. Celeste must constantly confront the forces threatening their affair - the perpetual risk of exposure, Jack's father's own attraction to her, and the ticking clock as Jack leaves innocent boyhood behind.
But the insatiable Celeste is remorseless. She deceives everyone, is close to no one and cares little for anything but her pleasure.
With crackling, stampeding, rampantly sexualized prose, Tampa is a grand, satirical, serio-comic examination of desire and a scorching literary debut.
Information
Format: Paperback
Pages: 272 pages
Publisher: Faber & Faber
Publication Date: 05/06/2014
ISBN: 9780571303335
Free Home Delivery
on all orders
Pick up orders
from local bookshops
Reviews
Showing 1 - 1 of 1 reviews.
Review by edwinbcn
23/09/2015
"... thirty-one is roughly seventeen years past my window of sexual interest." (p.1). Thus, Celeste describes her husband, and thus, right from the start she makes clear what she wants. Celeste is a female, predatory pedophile.Sadly, repeated sex scandals over the past three decades have numbed readers, and although sexual assault on children by pedophiles still evokes horror, Tampa, by Alissa Nutting is much more a parody than a shocking novel.The inversion, of making the pedophile in Tampa a female character highlights the groteskness of the idea. Pedophilia is grotesk of itself, and Alissa Nutting uses hyperbole to magnify the problem: the disproportionate, excessive weirdness of Celeste Price is almost humoristic.Celeste Price is married to the over-averagely handsome Ford. Aged 26, she works as a high school teacher. She is smart, direct and predatory. The novel is written from her perspective, so the reader follows her ridiculous reasoning in line. Celeste's mind is like a parallel universe. Her predatory, rational acting comes natural to her. Her sexual drive toward young adolescents is complete and hard-core. The novel shuns no taboos. Celeste strives for complete sexual relationships including penetration.Tampa makes the most of its theme, driving Celeste to ever more precarious escapades. Nothing is crazy enough. If she cannot have a boy, she masturbates. She focuses on pupils in her own classes, whom she first approaches after class. If successful, she tries to develop complete sexual relationships with the boys in their homes. Caught, almost in flagrante with Jack's father, she seamlessly proceeds to seduce the father, merely to cover up what has been going on with the son. When Jack's father dies of a heart attack, she takes it in her stride. When boys pass on, or become "too old" she swoops down onto other boys.Most if not all pedosexual scandals in the real world involve men predating on either young boys or girls. A female sexual predator and sociopath such as Celeste Price in Tampa, do they exist? The psyche of Celeste is a clever construct, whether 'realistic' or not. Nutting does a better job with Celeste's young victims. The psychology of the boys in the novel is quite convincing. Not entirely plausible, though, Tampa has the bravoura of the novels of John Irving, while Celeste has the obsessed mindset of a female American Psycho.Like the novels of John Irving, ridiculous and balancing on the edge of credibility, Tampa by Alissa Nutting is very well written. However, as the novel is very explicit about sexuality, it is clearly not for everyone. Besides, its taboo theme, however close it may come to parody, is probably not acceptable to all readers.