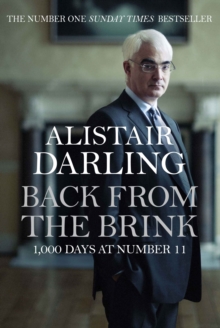 Back from the Brink : 1000 Days at Number 11
Hardback
Description
In the late summer of 2007, shares of Northern Rock went into free-fall, causing a run on the bank - the first in over 150 years.
Northern Rock proved to be only the first. Twelve months later, as the world was engulfed in the worst banking crisis for more than a century, one of its largest banks, RBS, came within hours of collapse.Back from the Brink tells the gripping story of Alistair Darling's one thousand days in Number 11 Downing Street.
As Chancellor, he had to avert the collapse of RBS hours before the cash machines would have ceased to function; at the eleventh hour, he stopped Barclays from acquiring Lehman Brothers in order to protect UK taxpayers; he used anti-terror legislation to stop Icelandic banks from withdrawing funds from Britain.
From crisis talks in Washington, to dramatic meetings with the titans of international banking, to dealing with the massive political and economic fallout in the UK, Darling places the reader in the rooms where the destinies of millions weighed heavily on the shoulders of a few.
His book is also a candid account of life in the Downing Street pressure cooker and his relationship with Gordon Brown during the last years of New Labour.Back from the Brink is a vivid and immediate depiction of the British government's handling of an unprecedented global financial catastrophe.
Alistair Darling's knowledge and understanding provide a unique perspective on the events that rocked international capitalism.
It is also a vital historical document.
Information
Format: Hardback
Pages: 352 pages, 2 x 4 colour plates
Publisher: Atlantic Books
Publication Date: 01/09/2011
ISBN: 9780857892799
Free Home Delivery
on all orders
Pick up orders
from local bookshops
Reviews
Showing 1 - 1 of 1 reviews.
Review by the.ken.petersen
16/06/2015
Were you to have asked me, prior to reading this book, who was my favourite political biography, I would have replied, Chris Mullin. The reason for that choice was based upon the fact that here was a man who could laugh at himself, as well as others. Mullin has no pomposity and the same can be said of Alistair Darling. The advantage which Darling holds over Mullin is that he held a senior government position (Chancellor of the Exchequer) during a significant historical era (the financial crash of 2008).It is refreshing to read a political biography in which the main character was not the only person who realised, the exact situation, from day one, and how it should be handled. Alistair Darling is generous with his praise and quick to acknowledge the input of his colleagues, even when they are not bosom buddies.Reading this book made me realise just how serious the banking crisis had been. One of the great problems with life today, when news is to hand twenty-four hours a day, is that a news programme needs sensation. Everything becomes the most serious crisis that man has ever faced and, naturally, the listener becomes blasé. Darling's book is written in a much more modest style and so, when he paints a picture of near collapse, it is so much more chilling. The section dealing with the banks is more gripping than any financial thriller that one may have read. Darling is honest enough to admit that nobody, himself included, really knew how to deal with events and leads us through the path that he, and Gordon Brown, took to reaching an effective course of action.Darling is also of great interest when dealing with the Labour Party leadership. He served at close quarters with both Tony Blair and Gordon Brown. He does not make one into a saint, and the other into a sinner, as so many of these biographies have. His account of the Brown government is particularly valuable. Gordon Brown is something of an enigma: he is obviously intelligent, clearly not strong upon personal relationships and he undoubtedly had some bad luck. Darling adds to this by showing a certain level of paranoia. Brown seems to have genuinely believed that the Treasury was trying to bring down his premiership: were I to be a psychologist, I might suggest that this was a guilt complex brought about by his clear attempts to topple Tony Blair from this branch of government. But, I am not, and so I wont!This book was one of the lower key releases subsequent to the demise of the Labour Government. I believe that, in the long term, it will be considered one of the most significant. Anybody interested in the World financial situation, or the British Labour Party, will find this book demands a place of pride upon their bookshelf.