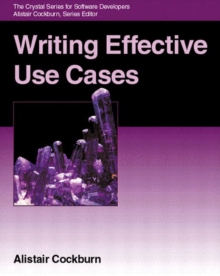 Writing Effective Use Cases
Paperback
Description
Use cases have never been this easy to understand -- or this easy to create!
In Writing Effective Use Cases, Alistair Cockburn offers a hands-on, soup-to-nuts guide to use case development, based on the proven concepts he has refined through years of research, development, and seminar presentations.
Cockburn begins by answering the most basic questions facing anyone interested in use cases: "What does a use case look like?
When do I write one?" Next, he introduces each key element of use cases: actors, stakeholders, design scope, goal levels, scenarios, and more.
Writing Effective Use Cases contains detailed guidelines, formats, and project standards for creating use cases -- as well as a detailed chapter on style, containing specific do's and don'ts.
Cockburn shows how use cases fit together with requirements gathering, business processing reengineering, and other key issues facing software professionals.
The book includes practice exercises with solutions, as well as a detailed appendix on how to use these techniques with UML.
For all application developers, object technology practitioners, software system designers, architects, and analysts.
Information
Format: Paperback
Pages: 304 pages
Publisher: Pearson Education (US)
Publication Date: 05/10/2000
Category: Software Engineering
ISBN: 9780201702255
Free Home Delivery
on all orders
Pick up orders
from local bookshops
Reviews
Showing 1 - 3 of 3 reviews.
Review by bexaplex
16/06/2015
After reviewing every book I could find on use cases, this is the one that is making it into the office library. Part 1 addresses the different kinds of use case templates and the parts of those templates. Part 2 is a collection of topics related to use cases (including relating use cases to other types of requirements). Part 3 is an executive summary, or a review of the entire book.The text was fun to read, but I expect I will get the most use from the downloadable Word template from the author's website and the list of pass/fail tests for the different template fields in the endpapers.
Review by celephicus
16/06/2015
I remember trying to learn use cases from the UML spec years ago. Remember those little men with lines from them to the boxes containing the use cases? What a waste of time it all was, we produced hundreds of pages of use cases that were no use in speccing the system and were never read again. Oh yes, the project failed.How I wish that I had had rhis book. A slim little number, written in a casual style, reinforcing the idea that a casual use case is better than a formal one or no use case at all. It will still take time to write a set of use cases, but Cockburn (pronounced co-burn, please!) has made them all and provides lots of gentle guidance.Use cases are not perfect, but they are lightweight, and you can start writing them in a few days with no more tools than a text editor, and they are an excellent way of flushing out requirements
Review by redvespa
16/06/2015
A great little guide on use cases from the grandaddy of the method. Highly recommended.
Also by Alistair Cockburn