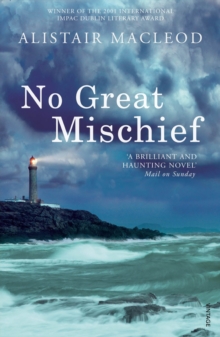 No Great Mischief
Paperback
Description
In 1779, driven out of his home, Calum MacDonald sets sail from the Scottish Highlands with his extensive family.
After a long, terrible journey he settles his family in 'the land of trees', and eventually they become a separate Nova Scotian clan: red-haired and black-eyed, with its own identity, its own history. It is the 1980s by the time our narrator, Alexander MacDonald, tells the story of his family, a thrilling and passionate story that intersects with history: with Culloden, where the clans died, and with the 1759 battle at Quebec that was won when General Wolfe sent in the fierce Highlanders because it was 'no great mischief if they fall'.
Information
Format: Paperback
Pages: 272 pages
Publisher: Vintage Publishing
Publication Date: 04/05/2001
ISBN: 9780099283928
Other Formats
EPUB from £4.99
Paperback from £10.15
Free Home Delivery
on all orders
Pick up orders
from local bookshops
Reviews
Showing 1 - 3 of 3 reviews.
Review by isabelx
16/06/2015
'The Zulus,' I said, recalling earlier conversations, 'always sing in the miners' componds. Our brothers said that after a while they could almost sing the songs, although they didn't know their meaning. It was as if one musical people were reaching out to join another.''I don't suppose,' she said after a moment of reflection, 'that you sing at your work?''No, I don't.''Do you subscribe to a concert series?''Yes,' I said.'So do I. The performers are quite wonderful.''Yes, they are.'Calum Ruadh (Calum the Red) landed in Nova Scotia in 1779 along with his six sons, six daughters, son-in-law, a dog that refused to be left behind, and a baby granddaughter born on the voyage a few days after the death of her grandmother. Two hundred years later, his gaelic-speaking Canadian descendants still have raven black hair or red hair and black eyes and own brown dogs that 'care too much and try too hard'.The history of the highlanders in Scotland and Canada and the story of clann Chalum Ruaidh in particular, are told by orthodontist Alexander MacDonald, reminiscing when he meets up with his twin sister Catriona or his alcoholic oldest brother Calum. All three have ended up isolated from their roots after moving away from their birthplace on Cape Breton, but miss the closeness of the clan, and fall back into speaking Gaelic and telling old stories about their parents and grandparents when they meet up.There is a lot of wistfulness, sadness and tragedy in this book, but they are balanced by warmth, togetherness and the security of belonging to a close-knit community with a shared history.I loved it, and think I will keep it in my Personal Collection for a while, if that is all right with you Caro, as I would like to read it again. And if you haven't read your other copy of this book yet, I highly recommend that you should bump it up to the top of your pile!
Review by patrickgarson
16/06/2015
Alistair MacLeod's prose is so assured, so evocative, so masterful. Just a page of it is enough to gently spin you into his world, where his simple, enduring Cape Breton characters strive. And strive to what? Well, to live in some cases, to apportion meaning where it belongs, to swim with the tide of history or break free from its powerful suck. No Great Mischief is the story of Clann Calum Ruaigh, a Scots family that migrate to Canada after the disastrous battle of Culloden. Like all his stories, MacLeod's characters and the worlds they inhabit are permeated, soaked, in history and context. Every relationship, house, and farm animal possesses its own complex history of joy, sorrow, triumph and disaster. This sounds melodramatic, but through the prosaic, yet thoughtful, eyes of his characters it never overwhelms. Indeed, it's understood the weight of these context-riddled ruminations can suffocate as often as they sustain.And yet all this history essentially resolves into a simple quest: the quest for meaning. Like a beachcomber on those wild shores, deciding what to pick up and what to leave behind is a difficult decision. These universal elements of love & loss, coupled to the removed, slightly alienated, observations of his protagonist give the book's drama a universal, relate-able nucleus. The strong cultural connection to the land and nature that underpins everything resonated with this former country boy even more strongly - but it's not a prerequisite for enjoying the novel. A unique - out-of-time if not timeless - writer offers up a labour of love in what is quite likely the only book he ever writes. Well worth the investment for the quality of prose alone; the almost ethnographical cultural history that invests it with something profound is a bonus. An embarrassment of riches, and likely be something still read - and still - relevant in fifty years or more.
Review by RandyMetcalfe
16/06/2015
The past is ever present in the lives of the Scottish Highlanders who faced the long journey from their homelands after the debacle of the Jacobite uprisings of the mid-18th century. The descendants of the MacDonalds who emigrated to Cape Breton, Nova Scotia, are all either red haired or dark haired. Their kin tend toward twins, the speaking of Gaelic, songs of lament, and tragedy. Such is the case for these 20th century heirs in this sad but heartfelt tale. Late one March evening a husband and wife and their fourth son, Colin, disappear under the ice as they are making their way on foot across the ice bridge to the island on which the husband and father is the lighthouse keeper. Three older sons are left behind as well as twins just three years old. The twins, a boy and a girl, are left in the care of their paternal grandparents who live in town. The older boys retreat to the old family home in the hills to eke out a living and make their way as best they can. The youngest boy, now a grown man, is the narrator of this family saga. He is the 'lucky, unlucky'. Lucky to be able to be raised in town by his grandparents. Unlucky in the circumstances that bring this about. But 'lucky, unlucky' might also describe the whole history of the Scottish Highlanders. And their collective sad tale is intermingled with the tale of this specific family of MacDonalds.Alistair MacLeod's writing is both sentimental and hard. He does not hide from the harshness of the lives of his subjects. Gruelling work, unexpected death, and violence abound. But so do songs and repeated adages, advice to this disparate and sometimes desperate clan. A counterpuntal narrative structure takes us from the late 20th century back through the lore to the late 18th century and forward again. And always the bond of blood remains stronger than any distance or difference that might arise.At times the narrative structure betrays the author. It tends towards repetition, like a refrain in a long song, which becomes less palatable as the story transitions from archetype to particular. The more we know about the narrator and his siblings the less the repetitions work emotionally. They begin to feel thumping, as when in a raucous sing-along someone needs to be stomping a beat in order to keep the verse moving forward. And there is something curious about familial and national history that concentrates almost entirely on the tragic events and has very little to say of love or personal desire and achievement or thoughts beyond the most basic blood bonds. I kept wondering whether this was a peculiarity of MacLeod's writing or a Scottish trait coming through. In either case it begins to tire the reader, I think. Or maybe I'm just inherently suspicious of writing that tugs on such nationalist and clannish heartstrings.