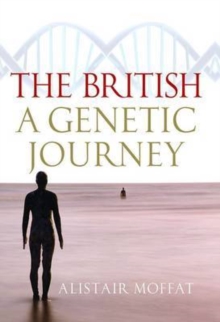 The British : A Genetic Journey
Hardback
Description
Hidden inside all of us - every human being on Earth - is the story of our ancestry.
Printed on our DNA are the origins of our lineages, the time in history and prehistory when they arose, and the epic journeys people have made across the globe.
Based on exciting new research involving the most wide-ranging sampling of DNA ever made in Britain, Alistair Moffat, author of the bestselling The Scots: A Genetic Journey, shows how all of us who live on these islands are immigrants.
The last ice age erased any trace of more ancient inhabitants, and the ancestors of everyone who now lives in Britain came here after the glaciers retreated and the land greened once more.
In an epic narrative, sometimes moving, sometimes astonishing, always revealing, Moffat writes an entirely new history of Britain.
Instead of the usual parade of the usual suspects - kings, queens, saints, warriors and the notorious - this is a people's history, a narrative made from stories only DNA can tell which offers insights into who we are and where we come from.
Information
Format: Hardback
Pages: 272 pages, 8 Plates, color
Publisher: Birlinn General
Publication Date: 01/11/2013
Category: British & Irish history
ISBN: 9781780270753
Free Home Delivery
on all orders
Pick up orders
from local bookshops
Reviews
Showing 1 - 1 of 1 reviews.
Review by shanaqui
16/06/2015
I generally enjoy Alistair Moffat's non-fiction writing (I don't know if he's written any fiction), although I don't agree with his outlook on the Arthurian legends (which he even manages to slot in here). It's very much popular science, or that's how it feels with the inserted text boxes of "interesting facts", but the level isn't really "complete beginner". I mean, it talks about mapping population movements via comparing particular unique markers, which must mean single nucleotide polymorphisms (SNPs), but it doesn't really contextualise that much. To me, my classes in genetics and anthropology contemplated this really well. It also talks about mitochondrial DNA and things like that, again without much explanation.It starts off being general, rather than really a genetic history of the British, because of course, it goes back to the last common ancestors of mankind. It narrows down later on, looking at the various different inflows of new DNA, e.g. to what extent the Romans or the Normans mixed with the people already in Britain. What I was more interested in was the discussion of how Britain's population got there. I didn't know, for example, about the land that joined Britain to mainland Europe at one time, Doggerland, so all of that was new to me.All in all, it didn't give me many surprises, but it's pretty up to date (includes stuff about recentish finds like the Denisovans) and, for the British population, pretty comprehensive. I'd have liked a little more about the separate populations of Britain: there are genetic differences, generally, between Scottish, Irish, Welsh and English people, and I'd have been interested to know more about how those groups formed and remained intact.