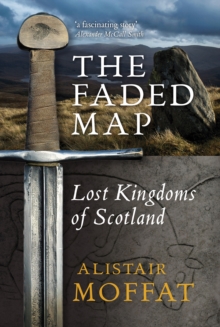 The Faded Map : The Lost Kingdoms of Scotland
Paperback
Description
Modern communications have driven motorways and pylons through the countryside, dwarfed us with TV and telephone masts and drastically altered the way in which we move around, see and understand Scotland.
Recent politics and logistics have established borders and jurisdictions which now seem permanent and impervious.
The Faded Map looks beyond these to remember a land that was once quiet and green.
It brings to vivid life the half-forgotten kings and kingdoms of two thousand years ago, of the time of the Romans, the Dark Ages and into the early medieval period.
In this fascinating account, Alistair Moffat describes the landscape these men and women moved through and talks of a Celtic society which spoke to itself in Old Welsh, where the Sons of Prophesy ruled, and the time when the English kings of Bernicia held sway over vast swathes of what is now Scotland.
Heroes rode out of the mists to challenge them and then join with them.
The faint echo of the din of ancient battles can be heard as Alistair Moffat takes the reader on a remarkable journey around a lost Scotland.
Information
Format: Paperback
Pages: 288 pages, 8 Plates, color
Publisher: Birlinn General
Publication Date: 01/05/2011
Category: British & Irish history
ISBN: 9781841589589
Free Home Delivery
on all orders
Pick up orders
from local bookshops
Reviews
Showing 1 - 1 of 1 reviews.
Review by Malarchy
16/06/2015
The Faded Map is a missed opportunity. It purports to be a description of the lost kingdoms of Scotland, in particular focusing on the kingdoms outside of Gaelic and Pictish control. Alistair Moffat has a very readable style but the line between popular and speculative history is thin. Moffat's speculative history might be engaging in a book about lost kingdoms but this is not such a book. Surprisingly, Faded Map is about Roman and Anglian Britain. It covers almost nothing of Scottish history at all. Other books about late and post Roman Britain typically cover Scotland in more depth than Moffat's supposedly dedicated coverage offers.The first chapter of Faded Map is outstanding. It is engaging and eminently readable. The chapter introduces the subject in exactly the format a reader might hope for. The tales of lost kingdoms will be told, the stories of great names from the Brythonic Scotland will be explored. Intriguing physical features that demarcate lines of control between different competing dynasties will be analysed. None of any of that actually happens in Faded Map. It seems the first chapter and the rest of the book were conceived entirely separately. Moffat states that his work will show the Gaelic conquest of Scotland was not inevitable. He does not even try. The mystery and sense of wonder from the first pages of the book are entirely not replicated later on.What does appear later on is sub-standard history of things that are not lost. Roman Britain is not part of the faded map, it is a very well covered part of history. Anglian Britain, in particular the Northumbrian Kingdoms of Bernicia and Deira are well known. These are not lost, they do not need to be found. Discussing Roman Britain at length would not be a problem if Moffat was advancing historical knowledge in some way. He is not. Moffat's logical leaps are great in areas where such leaps draw threads together. In the case of Roman Britain there are not a huge number of threads with unknown ends so the drawing of them together through speculation is merely amateurish. Moffat's views on Rome and its eventual decline are un-interesting. Such a shame in a book purportedly about Scotland to read such unimpressive comment on Rome.Indeed, it is only a couple of pages right at the end of the book which cover a Scottish kingdom. For some reason the first 230 pages are build-up for 20 pages about Strathclyde. The balance does not make sense. There is so much discussion about aspects of Bernicia for instance but Bernicia is relatively well known. Strathclyde should have been more central to the tale than Bernicia. Strathclyde has less coverage and a speculative writer like Moffat could have achieved so much more.Instead what we get is very strange. The sources are of course limited so a few very well known ones will feature prominently. Surprisingly Moffat's analysis of The Venerable Bede is beyond amateur. Moffat is intensely critical of Bede without offering credible analysis of why he takes such a disparaging view. Despite that he repeatedly offers Bede's words as being literally gospel when it comes to Bede's hagiographies. In describing saintly behaviour in an over-the-top manner, Bede must be telling the exact truth apparently. This makes no sense at all, it is in hagiographic writing that the most exaggerated claims are made. Why Moffat takes this aspect of Bede's writing at absolute face value but not other elements of Bede's work just makes no sense at all.Moffat also needs a better editor. The structure of his book is poor. Paragraphs ramble into one another using segue which makes it so hard to follow the narrative. All of a sudden a particular line of thinking jumps into something completely different. Very hard for a reader to suddenly switch gears without having a structure to fall back on.The structure of the book is also badly designed in that it offers far too little about Brythonic Scotland and far too much about Anglian or Roman. If Moffat was unable to find the evidence he needed to write sufficiently about what he describes as Welsh Scotland then at least develop a narrative about Strathcylde. Moffat seemt to want to write the tale of the Welsh in Scotland, he makes pointed reference to excellent examples of more modern views on equality than is typical of a dark ages despot. Yet there is no context. Why is it that the Welsh in Scotland were not more closely linked to the Welsh in Wales? Moffat also needs an editor to fix his use of adjectives. On half a dozen occasions Moffat describes the work of another author as being 'magisterial'. Sure it is a fun word but use it once not every time, use a thesaurus if necessary. The poor use of English merely adds to the amateurish feel of the work.The Faded Map is a real disappointment. It does not tell of the Lost Kingdoms of Scotland. It falls short of professional historian standards. There is very too much of the author's unusual views of well catalogued people and places. Far too little about Scotland. This is not the story it pretends to be.