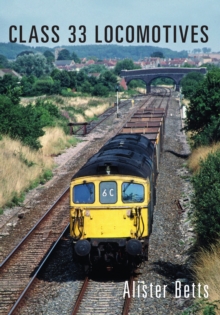 Class 33 Locomotives
Paperback
Description
British Railways Type 3 diesel-electric locomotives were delivered to the Southern Region between 1960 and 1962 to hasten the end of steam operations in the south of England.
Later categorised as Class 33 by British Rail, to many they were simply known as 'Cromptons' due to their Crompton-Parkinson electrical equipment. In many ways they were ground-breaking: they were the first diesel fleet to carry electric train heating and, later, nineteen locomotives of the class were converted to operate in push-pull with electric multiple units. Their reliability and flexibility saw their geographical scope increase in the early 1980s and for several years, long diagrams saw them reach as far as North Wales and the North West on a daily basis. As British Rail embarked on a wave of modernisation of passenger trains, a number of the locomotives found more new work as heavy construction trains for the Channel Tunnel. The fleet lost a few examples to accident damage before its rundown started in the late 1980s and privatisiation of the railways saw of the end of remaining examples on fleet use. A couple of private operators used examples in the new world and today, over fifty years since their introduction, examples can still be seen occasionally on the mainline.
Over a quarter of the class has been preserved. This book is a personal view of Class 33, the Cromptons.
Free Home Delivery
on all orders
Pick up orders
from local bookshops