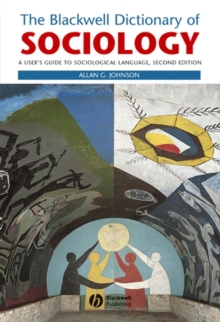 The Blackwell Dictionary of Sociology : A User's Guide to Sociological Language
Paperback / softback
Description
This second edition of Allan G. Johnson's one-volume dictionary includes 75 new entries, as well as an expanded biographical section, extensive revisions and updates, and more thorough cross-referencing.
The combination of clear prose, engaging examples, a single author's voice, and minimal assumptions about the average reader's prior knowledge of the field, makes this a distinctive and valuable reference work.Johnson defines amorphous and fuzzy sociological concepts in a lively and sensible way and his book provides an introduction to what it means to think sociologically.
For a deeper understanding of social life, and of the only discipline dedicated to making sense of it in all its diversity, this Dictionary is a perfect guide.
Information
Format: Paperback / softback
Pages: 432 pages
Publisher: John Wiley and Sons Ltd
Publication Date: 19/04/2000
Category: Sociology
ISBN: 9780631216810