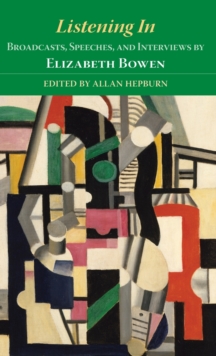 Listening In : Broadcasts, Speeches, and Interviews by Elizabeth Bowen
Hardback
Description
The novelist Elizabeth Bowen believed that media was a personal and social force.
From the 1940s to the 1960s, she took an active role in the media and radio in particular by writing essays for radio broadcast, improvising interviews on the air and giving public lectures.
Despite her pronounced stammer and her complaints that reading her own work gave her lockjaw, she was a spellbinding talker.
Bowen became known as a public intellectual capable of talking on numerous subjects with wit and general insight.
Invited to university campuses in the UK and US, she delivered important lectures on language, the 'fear of pleasure', character in fiction, the idea of American homes and other topics.
Her first efforts for radio were adaptations of her own short stories and dramatizations of literary subjects.
She quickly turned to commentary on culture, such as the beginning of the BBC Third Programme and the atmosphere in postwar Czechoslovakia.
She documented her love of cinema in the 1930s and the making of Lawrence of Arabia in the 1960s, and broadcast on Queen Elizabeth II, Frances Burney and Jane Austen.
During her lifetime, Bowen published few of her broadcasts. Listening In brings together a substantial number of her ungathered and unknown works for the first time.
Key Features o The third volume from Edinburgh University Press that brings Bowen's previously ungathered and unknown works to the reading public o Advances scholarly knowledge about radio in modernism and makes Bowen's voice known within modernist media studies o Helps to define the public role of the writer and women's roles in the postwar years o An exciting new source for students of adaptation, both in Bowen's adaptations of her own work for radio and her broadcasts about Jane Austen and Frances Burney.
Information
Format: Hardback
Pages: 392 pages
Publisher: Edinburgh University Press
Publication Date: 31/05/2010
Category: Literary essays
ISBN: 9780748640416
Free Home Delivery
on all orders
Pick up orders
from local bookshops