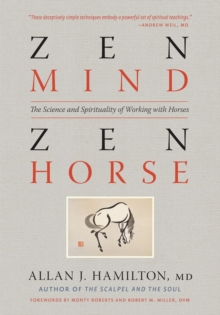 ZEN Mind ZEN Horse the Science and Spirituality of Working with Horses
Paperback / softback
Description
Mindful work with horses, says neurosurgeon Allan J.
Hamilton, can enlighten the human handler as much as it benefits the horse.
Evolving over 30 million years to become the quintessential prey animal, equines have developed acute right-brain survival skills, such as leadership, awareness, empathy, and cooperation.
In particular, the horse has finely honed abilities to lead, communicate, and connect not with words, but with the vital emotional energy described in the Buddhist tradition as chi.
When we learn the language of chi, we become more effective as leaders, more attuned to others, and more joyful as human beings. "Zen Mind, Zen Horse" begins by examining how the equine and human brains function, often related to their respective roles as prey and predator.
Going on to draw insights and wisdom from spiritual traditions such as Zen Buddhism, Ayurvedic healing, and Yaqui shamanism and from the great horse cultures of the Mongolians, Bedouins, and Native Americans, Dr. Hamilton shows the importance of developing right-brain awareness and quieting the left-brain dominance of our Western brains.
Information
Format: Paperback / softback
Pages: 320 pages, full colour photographs & illustrations throughout
Publisher: Storey Publishing LLC
Publication Date: 01/09/2011
Category: Horses & ponies
ISBN: 9781603425650
Free Home Delivery
on all orders
Pick up orders
from local bookshops
Also by Allan J. Hamilton