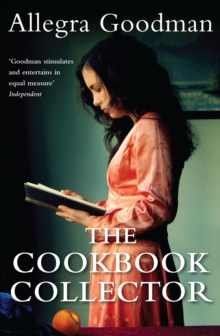 The Cookbook Collector
Paperback
Description
At the turn of the last century, two sisters are following very different paths.
Twenty-eight-year-old Emily is a CEO of an internet start-up; twenty-three-year-old Jess is a grad student in philosophy, a vegan who rejects the rampant capitalism that surrounds her.
Pragmatic Emily is making a fortune in Silicon Valley while capricious Jess works in an antiquarian bookstore.
Emily's boyfriend is fantastically successful; Jess's boyfriend is an environmental activist.
But as the burst of the Dotcom bubble looms and the falling towers of the World Trade Center cast a dark shadow over America, both sisters are torn between two loves, two lives.
The Cookbook Collector serves up a lively stew of characters: bold young software titans, Berkeley tree-huggers, bibliophiles and a pair of investment savvy rabbis. In an increasingly virtual world, in an era of electronic organizers and onscreen identities, Allegra Goodman reminds us that the one thing that keeps us human is love.
Information
Format: Paperback
Pages: 416 pages
Publisher: Atlantic Books
Publication Date: 01/04/2012
ISBN: 9781848875401
Other Formats
Paperback from £10.49
EPUB from £5.99
Free Home Delivery
on all orders
Pick up orders
from local bookshops
Reviews
Showing 1 - 2 of 2 reviews.
Review by shelleyraec
16/06/2015
Actually this won't be much of a review because after trudging through the first half of the book I basically skimmed the last, as I found that I had lost interest somewhere along the way. This novel revolves around two sisters, dotcom executive Emily and hippie philosophy student Jess, and takes place between the autumn of 1999 and the spring of 2002, against the backdrop of the tech boom and bust and September 11, set primarily in California. The novel compares the paths the two sisters take in their relationships and career, contrasting their differing approaches to life and its challenges.I'm not sure exactly why I failed to connect to the sisters, I found Jess more interesting than Emily, but only marginally and primarily because of her work in a rare bookstore. The story is cluttered with minor characters who are given too much importance through in some cases only a tenuous connection to the sisters.I felt the plot had little in the way of action or drama, circling around the imminent public offering of Emily's company for far too long and failing to move either character forward in the first half. What I would consider the pivotal plot points (family secrets revealed, Emily's fiance's betrayal, the dot com collapse, 9/11) are primarily crammed into the last 100 pages or so though there are multiple threads that don't really seems to go anywhere. I also thought he title of this novel misleading, it had very little to do with either the characters or the plot, except in the most oblique way.This is not a novel that worked for me, but if you are considering reading it, it does have several positive reviews on Goodreads and Amazon so I encourage you to get a second opinion.
Review by Anne_Green
16/06/2015
A friend of mine loaned me the book as she knew I loved books about food and cooking. But as I discovered, the title is somewhat misleading. Oh there are cookbooks in there, an astounding collection of priceless historic cookbooks in fact, passages on which were totally fascinating and absorbing. The trouble is this is only one of a virtual smorgasbord of themes which in the end left me feeling as bloated as if I'd over-indulged in a sampling of the cookbook recipes. There's the Jewish theme, the dot.com theme, the 9/11 theme, the lost family connection theme, the sisterly tension theme, the tree saving theme, the materialism versus down home values theme and probably heaps more I missed. There was remarkable consistency about the characterisation in this book. I'm sure this wasn't the intention but I found myself wishing each and every one of them had ended upon on the ill fated plane on 9/11, rather than just a couple. In particular the two main female characters, the sisters, supposedly so contrasting in personalities, values, goals etc. that they would ultimately complement and bring out the best in each other, were unbearably irritating and one dimensional. In particular the flaky, tree hugging, self-righteously vegan Jess, who despite her schoolgirlish naiveté and total inability to do much more than flaunt her half-formed philosophical opinions to anyone who can't escape, has the ultra-cool mega-rich man about town cookbook buyer (a heart breaker from way back because he can't find the perfect woman) falling at her feet by the end of the book. But enough about what I didn't like. I did enjoy the cookbook parts even though they were too sparse given the book's title and I did keep reading. So I admit I hung in there for the star-crossed lovers (two couples in this case) to finally fall into each other's arms. But that's just me.