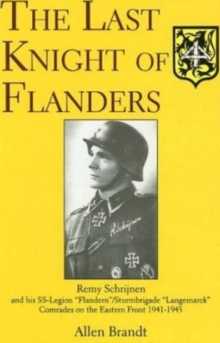 Last Knight of Flanders : Remy Schrijnen & His SS-Legion
Hardback
Description
This is the story of the Flemish volunteers of Germany's famed Waffen-SS, told by those who were there.
The book centres around Remy Schrijnen, the only Flemish volunteer to win the heralded bravery award, the Knight's Cross to the Iron Cross.
The book presents the varying viewpoints of the war as told through the eyes of Schrijnen and those who surrounded him.
From enlisted men to officers -- those who were there tell it like it was.
Since 1830, Belgium has been a country consisting primarily of two peoples: the French-speaking Walloons and the Dutch-speaking Flemings.
Despite the fact that they are the minority in regards to total population, the Walloons have dominated and ruled the Belgian government since the very beginning, which has prevented prosperity for the Flemings.
The Flemish volunteers sided with the Germans in World War II in hopes that the blessings of the victor would gain them independence within their native country.
The Flemish youth rallied behind the calls of their mothers and fathers -- many of whom had fought against the Germans in the First World war for a free Flanders.
The church called on these young men to put an end to the possibility of a "Red" invasion of Europe.
They were heroes in the eyes of many. Under the leadership of the Germans, the Flemings got to know the harsh and brutal realities of combat on the Eastern Front.
It was there that many young men perished. The war went on for three long years. After the war, they were vanquished and returned home to their native Flanders as criminals.
Some were executed, most were sent to prison. This is their story.
Information
Format: Hardback
Pages: 272 pages, 110+ b/w photos, illus & maps
Publisher: Schiffer Publishing Ltd
Publication Date: 10/09/2004
Category: Biography: general
ISBN: 9780764305887
Free Home Delivery
on all orders
Pick up orders
from local bookshops