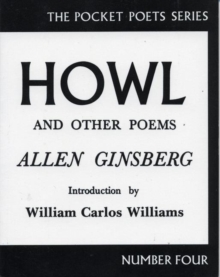 Howl and Other Poems
Paperback
Description
Allen Ginsberg's Howl and Other Poems was originally published by City Lights Books in the Fall of 1956.
Subsequently seized by U.S. customs and the San Francisco police, it was the subject of a long court trail at which a series of poets and professors persuaded the court that the book was not obscene. Howl & Other Poems is the single most influential poetic work of the post-World War II era, with over 1,000,000 copies now in print. "Howl was Allen's metamorphosis from quiet, brilliant, burning bohemian scholar trapped by his flames and repressions to epic vocal bard."--Michael McClure "It is the poet, Allen Ginsberg, who has gone, in his own body, through the horrifying experiences described from life in these pages." --William Carlos Williams "At the height of his bardic powers, Allen Ginsberg could terrify the authorities with the mere utterance of the syllable "om" as he led street throngs of citizens protesting the Vietnam War.
Ginsberg reigned as the raucous poet of American hippiedom and as a literary pioneer whose freewheeling masterwork "Howl" prevailed against government censorship in a landmark obscenity trial 50 years ago."-- New York Times "Fifty years ago, on October 3, Judge Clayton Horn ruled that Allen Ginsberg's great epic Beat-era poem HOWL was not obscene but instead, a work of literary and social merit.
This ruling allowed for the publication of HOWL and exonerated the poet Lawrence Ferlinghetti, who faced jail time and a fine 50 years ago for publishing 'HOWL.'" -- Pacifica.org Allen Ginsberg was born June 3, 1926, the son of Naomi Ginsberg, Russian emigre, and Louis Ginsberg, lyric poet and schoolteacher, in Paterson, New Jersey.
To these facts Ginsberg adds: "High school in Paterson till 17, Columbia College, merchant marine, Texas and Denver copyboy, Times Square, amigos in jail, dishwashing, book reviews, Mexico City, market research, Satori in Harlem, Yucatan and Chiapas 1954, West Coast 3 years.
Later Arctic Sea trip, Tangier, Venice, Amsterdam, Paris, read at Oxford Harvard Columbia Chicago, quit, wrote Kaddish 1959, made tape to leave behind & fade in Orient awhile.
Carl Solomon to whom Howl is addressed, is a intuitive Bronx dadaist and prose-poet."
Information
Format: Paperback
Pages: 57 pages
Publisher: City Lights Books
Publication Date: 01/01/2001
Category: Poetry by individual poets
ISBN: 9780872860179
Other Formats
Paperback from £6.09
EPUB from £3.99
Free Home Delivery
on all orders
Pick up orders
from local bookshops
Reviews
Showing 1 - 5 of 17 reviews.
Previous | Next
Review by ThatsFresh
16/06/2015
I was bought this book by my uncle as a gift while on a day trip to San Francisco thsi past spring. We visited the City Lights Bookstore and I was taught a little about the beat generation and all the radical poets coming to the bookstore to publish their works since at the time, no one else would've dared publish them. I read the book in one day, and even though I tried to read slowly and get in tune with the language, I found it hard. The book brought up people I didnt know and social ideas I dont know the history of.I didnt really enjoy this book, but I know it's because I know nothing of all the history behind it. I'd love to read up a bit more on all the subjects this book covers so that I can read it again in 5 or 10 years and read it with a better understanding.
Review by abirdman
16/06/2015
"I saw the best minds of my generation, destroyed by madness, starving, hysterical, naked" No more needs to be said. One poem that defined the fifties and sixties for many, including myself.
Review by whitewavedarling
16/06/2015
The poems here are classics and wonderful reads, but this isn't the edition I'd recommend. Aside from being an awkward size that will easily get lost on your shelp (or even your desk), for someone who isn't familiar with Ginsberg's work, footnotes are nearly a necessity, and here you don't have them. This certainly isn't the most convenient copy of his poetry, but if you simply want the words and already have a loose background on him or the beats in general, this is all you need to feel the poems themselves, which are classic, threatening, and still powerful.
Review by Jakeofalltrades
16/06/2015
The book of poems they tried to ban, it's still a pleasure to read after all these years. The title poem, "Howl" is a massive hit to the senses, with both divine and earthly imagery that inspires. Other poems in the collection, such as "America" are a critique of consumer society, ahead of his time and still relevant in the 21st Century. A great introduction to Ginsberg's works even though the poet himself did not regard "Howl" as his best poem.
Review by cinesnail88
16/06/2015
Having loved Allen Ginsberg for as long as I have, I can't believe I put off reading Howl until now. Of course, it did help to be able to buy it directly from City Lights, but still, there's no excuse for how long this took me. Read it, love it, what else can I say?
Also in the Pocket Poets Series series | View all