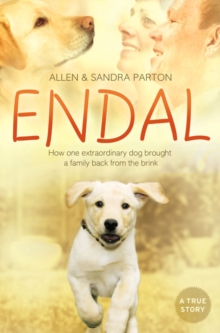 Endal : How One Extraordinary Dog Brought a Family Back from the Brink
Paperback
Description
The remarkable story of Endal, voted `Dog of the Millennium', and how, through his remarkable skills, companionship and unstinting devotion, he gave Allen Parton a reason to live again. Allen Parton was seriously injured while serving in the Gulf War.
He lost the use of both of his legs, plus all memories of his children and much of his marriage.
He was left unable to walk, talk or write - isolated in his own world.
After five years of intensive therapy and rehab, he was still angry, bitter and unable to talk.
Until a chance encounter with a Labrador puppy - Endal - who had failed his training as an assistance dog on health grounds.
They 'adopted' each other, and Endal became Allen's reason to communicate with the outside world, to come to terms with his injuries, and to want to live again.
Not content with learning over 200 commands to help Allen complete everyday tasks like getting dressed and going out to the shops in his wheelchair, Endal gave Allen the ability to start living again, and to become a husband and father again in his own special way.
This is the incredible story of Allen, his wife Sandra, and his family. And, of course, Endal.
Information
Format: Paperback
Pages: 320 pages, 25 col plates (8pp)
Publisher: HarperCollins Publishers
Publication Date: 05/02/2009
Category: Memoirs
ISBN: 9780007303007
Free Home Delivery
on all orders
Pick up orders
from local bookshops
Reviews
Showing 1 - 2 of 2 reviews.
Review by 26kathryn
16/06/2015
A truly amazing story, this book completely blew me away. Have the tissues ready!Allen was serving in the Gulf when he was involved in a car accident which left him suffering a serious brain injury. He couldn't remember anything about his life other than his naval career.The first half of the book explores Allen and Sandra's life before and after the accident. It made for really intense reading. All that Allen wants to do is get better and get back to work, but his short term memory loss is so bad that sometimes he'll stop speaking halfway through a sentence and forget he was even talking. Sandra was incredible in the way she dealt with everything. She has to put up with the navy closing ranks on her when she tries to find out the truth about Allen's accident, then she has to cope with money worries and possible eviction from their home. All this while trying to care for a man who doesn't even recognise her as his wife.Endal the dog isn't introduced until much later on in the book, which is good because you really do need to know the full story to fully appreciate how much Endal changed Allen and Sandra's lives.The book is told in alternating chapters between Allen and Sandra. This is slightly repetitive in places, but it's good because you get to see both sides of the story.Endal is an amazing dog and it was lovely to read about all the things he could do and the way he brought people out of themselves. But I have to say that my hero of the story was Sandra. There's not many people who could (or would) stand by their spouse for so long when he didn't even know who she was. The way she coped with everything was amazing and she's a true inspiration to me.
Review by zoomball
16/06/2015
Yes, Endal is an amazing dog who makes an incredible impact on the lives of a family devastated by a head injury of one of its members. But it is not an amazing book. You have to get halfway through the book before Endal becomes part of the story. The chapters are alternately narrated by the vet with the head injury and his wife. They are not terribly well written - it seems that bringing in a professional writer & editor could have made this a better read. I personally have a service dog who has changed my life and I applaud all efforts to make public the efforts of the agencies that work to train and place these life changing animals. Donations of money, but more importantly, donations of time by those people who can train a dog and pass it on, are sorely needed. But if you want to read a really excellent book about a dog who changes the life of an American veteran, I highly recommend "Until Tuesday". Another amazing dog but a much richer recounting of one veteran's experience. "Endal" is too sugar-coated, if that can possibly be said about a story of the survivor of a traumatic brain injury. It will tug at heart-strings. But "Until Tuesday" will open your eyes and your minds about what injured military veterans cope with from a societal and bureaucratic perspective while presenting a much deeper backstory of the dogs that change the lives of people with disabilities.