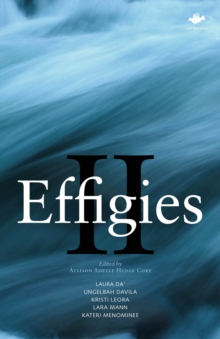 Effigies II : An Anthology of New Indigenous Writing Mainland North & South United States, 2014
Paperback / softback
Description
These five first books join to represent a freshly emerging 21st Century Indigenous Mainland poetry.
This collection releases a reader into parallel spaces of Native culture as diverse as the US-occupied landscapes they embody; the desert Southwest, the Pacific Northwest, Eastern Woodlands, Great Lakes Region, Kansas and Oklahoma, bringing a bit of urban and rural symphony by resisting folds into Americana with courageous unfolding imagery in a serious range of departure.
Five debut books present a fistful of furious nature, supple with beauty and brilliance and packing the punch intentional poetry delivers.
This is a fearless collection of evocative and challenging verse.
Effigies II is a road trip through Indian Country with five American Indian women poets who bring it all back home. "The Tecumseh Motel traces a parallel path of Shawnee culture and personal history. Spanning from the period of Indian Removal to the present, this text lyrically examines identity, generational memory, and the importance of place." - LAURA DA"This book explores the images of the American West.
From the neon light of honky tonk barrooms to the Southwestern landscape to the railroad, dirt roads and grandmothers' living rooms." - UNGILBAH DAVILA"A narrative through wrenching spaces in the life of one descendant wrestling with post apocalyptic identity, grounded by persistently supportive ancestors and helpers determined to see their blood survive and resist colonial assimilation through disembodiment" - KRISTI LEORA
Information
Format: Paperback / softback
Pages: 260 pages, No
Publisher: Salt Publishing
Publication Date: 04/07/2014
Category: Poetry anthologies (various poets)
ISBN: 9781844718955