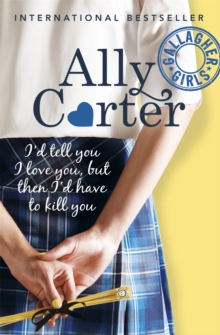 Gallagher Girls: I'd Tell You I Love You, But Then I'd Have To Kill You : Book 1
Paperback
Description
Gallagher Academy might claim to be a school for geniuses - but it's really a school for spies.
Cammie Morgan is fluent in fourteen languages and capable of killing a man in seven different ways (three of which involve a piece of uncooked spaghetti).
But the one thing the Gallagher Academy hasn't prepared her for is what to do when she falls for an ordinary boy who thinks she's an ordinary girl.
Sure, she can tap his phone, hack into his computer, and track him through a mall without his ever being the wiser, but can Cammie have a normal relationship with a boy who can never know the truth about her?
Information
Format: Paperback
Pages: 320 pages
Publisher: Hachette Children's Group
Publication Date: 01/05/2012
Category: Adventure
ISBN: 9781408309513
Free Home Delivery
on all orders
Pick up orders
from local bookshops
Reviews
Showing 1 - 3 of 3 reviews.
Review by CaroTheLibrarian
16/06/2015
PLUS - * Light-hearted and fun to read, some funny parts, some poignant.* Definitely one for the girls - part school story, part spy story, part romance. * School story - our heroine Cammie attends what to the outside world is an exclusive girls' school, but is in reality training female under cover agents. * Spy story - Cammie can speak 14 languages, go unnoticed in a crowd and can take out anyone that stands in her way.* Romance - can she hold it together and not give her secret away when she meets a boy form the 'real world'?MINUS - * It's a bit thin on plot but hopefully now we're set up with the characters the other books in the series might develop things a bit.OVERALL - * Not startling literature, but with likeable characters and a fun plot it's worth a read (especially if you're female and aged around 14!)
Review by wyvernfriend
16/06/2015
Cammie or Chameleon as she is known to her friends is in a school where her mother is the headmistress. It's an exclusive school, where all the female students are training to be spies. Cammie is doing well until a covert operations class has her out in the local town and she meets a guy. Falling in love is hard enough but she lies to him, and the lies are going to have repercussions.It's a fun read, if you scratch it it doesn't really make a huge amount of sense but it's fun. I was caught by the Gallagher Academy thing because my mothers parents were Gallaghers but it was a cool read and doesn't take itself seriously.
Review by LaurenKathryn
16/06/2015
I'd probably give this 2.5 stars - It wasn't as bad as a two star rating but not quite worthy of a total three star.<br/><br/>The humour was note worthy, but I really don't understand all the hype...? <br/>I mean it was alright, although I know it's aimed at the "pre-teen/teenager" age group, (clearing being 19 I'm still desperately trying to hang on to my last few months in the teens...) but it wasn't anything brillantly mind blowing. I'm sure if was my 13 year old self and I'd read this I would be gushing over it's romance and love-dovey moments and the whole "new girl is evil but secretly she's a true friend" story line, but I just thought it was a bit cliche. I'll give Carter credit, I've personally never read a book set in a teenage spy school, and that was pretty awesome, but the other parts just left me bored half the time.<br/><br/>Also, was it just me or did anyone else get really confused in parts? I know I tend to skim the pages, so knowing me I probably missed a vital part, but I got really lost in places. I had to re-read paragraphs to understand how the character's locations/moods changed within the space of a sentence!<br/><br/>I'd probably say it's best to just leave this with the teens and they can continue to rave about it to their young hearts content.<br/><br/><b>"Oh.' I shot upright. 'I was in Mongolia.'<br/>Note to self: learn to be a less extreme liar." </b>
Also in the Gallagher Girls series | View all